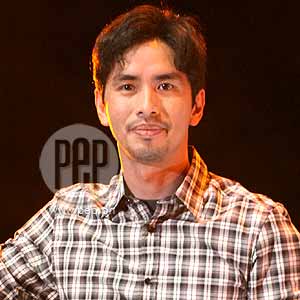 ---
It took several months before Rico Blanco and his record label Warner Music Philippines released his fourth single "Ayuz" from his album Your Universe.
The release of the song as well as the launch of its music video was put on hold to give way to Rico's new composition called "Bangon," which he wrote at the height of the typhoons that recently hit the country.
"When the typhoon happened, we were actually almost done editing the music video. We were already set to release the video. But I didn't feel right singing [the song's lyrics], 'Lahat ng hassle mawawala basta kasama kita,'" the singer-songwriter explained at the launch of "Ayuz" music video last night, December 8, at Capone's Bar and Bistro at A.Venue, Makati Avenue, in Makati City.
He added, "At that point, I felt I need to offer a song to all those affected by the typhoons as well all the heroes who have helped out."
Rico decided to release the video a few months after the calamities to offer a feel-good song to Pinoys who have been in the worst situation this year.
"At this time, I feel naman, I found a new meaning to that song. To me now, the song has taken a symbolic meaning. If we're there for one another, 'basta't kasama kita,' everything will be all right."
DANCING WITH CRISTINE REYES. In the music video, which was directed by Treb Monteras III, the solo rock artist is seen dancing during the most part, a talent that the public has not yet seen from him, except briefly in his concerts.
"It's almost like a dream come true for me to have a video where I'm dancing," said Rico.
"It was a trip for me to finally be able to do it. For the people who have followed my shows, they would see that once in a while, you know, I'd break into short dance number in my concerts. But to have a full video where I was just free-styling, it's a thrill for me."
ADVERTISEMENT - CONTINUE READING BELOW
It was also surprising to see the musician dancing happily with Cristine Reyes on the video.
"Cristine is a good friend of ours, Warner Music Philippines. I think a few weeks or months before that, she came to my show here and, in fact, performed with her own band in the middle of my show. She's a friend and I'm very honored that she said yes when we asked her if she wanted to dance with me on the video. She's very game and I'm very thankful."
In a separate interview, the sexy young actress said she's excited to see her first music video. "I'm super-excited. Happy ako kasi nagawa ko ang music video with Rico Blanco, 'tapos ang ganda-ganda ng song. Masaya ako siyempre sa dinami-rami ng magagandang babae sa showbiz, ako pa ang napili nila."
NO COMMENT ON RIVERMAYA ISSUE. While Rico was game in answering all the questions from the media, he chose not to comment on the issue between his former band and their former manager Lizza Nakpil (CLICK HERE to read related article)
The ex-Rivermaya member said, "I think if I were to comment on that question, it wouldn't have much bearing on things because I'm an outsider now."
Instead, he recalled his experience with Rivermaya. "I had a lot of good memories with Rivermaya. I've had a lot of good things with Rivermaya and I'm proud of everything that we have accomplished. I'm happy with whereever I am now, if it weren't for the Rivermaya and the people I've worked with."