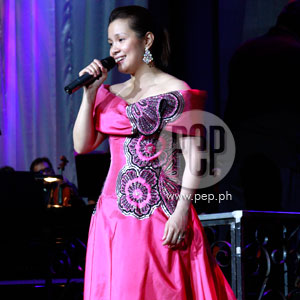 ---
What songs would you like Lea Salonga to sing?
This was the concept of the Your Songs concert, which took place at the Philippine International Convention Center (PICC) Plenary Hall last December 11.
Fans were asked to submit their song titles via www.leayoursongs.com, and "the requests cut across a wide array of musical style—from pop, rock, to alternative, then OPM," as Lea put it.
Apparently, her supporters wanted to hear her version of Lady Gaga's "Poker Face" or Katy Perry's "I Kissed a Girl." And yes, the 38-year-old singer gladly and gamely obliged.
Your Songs showcased both the musicality and versatility of the world-class performer.
At about 8:30 p.m., the audience hushed at the sight of Lea in a black Rajo Laurel ensemble. She opened the show with Elton John's "Your Song," then belted out Beyonce's "Halo" right after.
"All of tonight's songs are your songs. They may be your favorites, songs that you sing in the happy times, songs that get you through the hard times, songs that have sentimental value for you. Tonight, your songs are my songs," she told the people who arrived at the jampacked venue.
Her next set was what she dubbed the "power ballads," which included Chicago's "If You Leave Me Now," "Making Love Out of Nothing at All" (Air Supply), Now and Forever (Air Supply), and "Open Arms" (Journey).
THE EVENING'S SURPRISES. An interesting twist to the concert was the presence of a fan who had the chance to sing with the Laurence Olivier and Tony awardee on stage.
Christopher Yu emerged looking starstruck and excited at the same time. He indirectly admitted he was nervous, but during his actual duet with Lea, he did not disappoint. The Glee Club member sang just as well as Brad Kane did in "A Whole New World," the theme song of the Disney animation Aladdin, where the Pinay performer lent her singing voice to Jasmine.
ADVERTISEMENT - CONTINUE READING BELOW
The audience was mesmerized, and after the number, some yelled, "More!" to which Lea responded, "You can request more if this is his show. In the meantime, this is my show."
Another revelation was the singer's dancing prowess. With the Philippine All-Stars, a group that represented the country in international hip-hop dance competitions and came home champion several times, Lea bopped to the beat of Amy Winehouse's "Rehab."
After the dance, the hip-hop singer Q-York took over and did the "Mainit" number with Philippine All-Stars.
Alternative rock aficionados in the house surely enjoyed the Broadway star's rendition of Juan dela Cruz's "Ang Himig Natin," Eraserheads' "El Bimbo," and The Dawn's "Salamat," which Lea sang with the group's vocalist Jett Pangan.
That portion was one of the most applauded performances, with Lea putting on a rock star hat and singing the piece a few octaves higher than Jett's pitch.
Afterwards, she delighted the spectators with her version of a Lady Gaga hit. Nope, she didn't don the American singer's flashy outfits, but she wore that perfect "Poker Face" expression.
The OPM segment began with Lea's soulful performance of "Kahit Isang Saglit." Then, Richard Poon joined her to sing "Bakit Labis Kitang Mahal," "Mahal Kita Walang Iba," "Sana Maulit Muli," "I Don't Love You Anymore," and "Sometime, Somewhere." The lady owned the stage!
The quite unexpected yet most-applauded part of the evening was the showdown between Lea and Ai-Ai Delas Alas.
The Comedy Queen brought the house down with her funny quips. "It's so cool to be with you," was how she greeted Lea. Ai-Ai continued, addressing the people at the orchestra section of the hall, "Babatiin ko lang po ang mga fans ni Ms. Lea. Grabe, ang yayaman. Sosyal! Mga nakabarong." Then she looked up and waved to the crowd occupying the balcony seats, "Hi, fans. 'Musta kayo riyan? Buti na lang nakarating kayo at na-afford niyo diyan."
ADVERTISEMENT - CONTINUE READING BELOW
The hall roared with laughter.
It was the audience's utmost enjoyment to witness Lea sing Akon's "Right Now," Rihanna's "Umbrella," and for her to drop her prim-and-proper persona for a few minutes as she belted out the Aegis song "Halik." And for those who want to know how she ended the song—yes, she sang the "bakit iniwan mo ako" line with that garalgal quality of a rock star!
Ai-Ai took care of the "pang-piyesta" versions, like Blank Tape's "Banana" and Miss Ganda's "Payong."
The segment was totally entertaining—from the moment Ai-Ai's video clips were shown to her "Tomorrow" number, up to the hilarious exit with her dog "Bantay."
BEST PIECES. Lea performed, with her distinctly clear voice, a total of 33 songs. Aside from her well-applauded "Halik" and "Poker Face," her Broadway pieces also topped the crowd's list of favorites.
She had the people gaping in awe as she rendered Les Miserables'"I Dreamed A Dream" and "On My Own," Cats' "Memory," Billy Elliot's "Electricity," and Wicked's"Defying Gravity."
Her heartfelt rendition of "Gone Too Soon"—her tribute to King of Pop Michael Jackson—brought the excited audience to a standstill. Gerald did a good job of interweaving the intro of "She's Out of My Life" into the song.
And she did a great job in choosing "Ang Bayan Ko" for the finale.
In these trying times for our people, it was more than apt to inject a sense of nationalism to the concept. Lea even quoted CNN's first Pinoy hero Efren Peñaflorida: "You are the change that you dream, as I am the change that I dream, and collectively, we are the change that this world needs to be."
For the encore, she sang "Thank You for the Music" and "If I Could."
The concert finished past 11:00 p.m. It was past most of the people's bedtime, but they had this sulit expression on their faces. Of course, there were a few hiccups. Some said that a few of her spiels—like, "I like you too, though I don't know you..." or "Let's get back to business..." were a bit abrupt and too brisk. Some also noticed that her shoes may have been giving her a hard time walking from one end of the stage to the other. And a few remarked about the transposition of note keys lower in some of the medley numbers, resulting to a less dramatic (though not necessarily less satisfactory) climax for the songs.
ADVERTISEMENT - CONTINUE READING BELOW
But it was still a Lea Salonga concert, thus worthy of a world-class tag!
We left the venue with this thought: Whatever song Lea is asked to sing, she can pull it off.
It's not just because of her musicality and versatility, but also her passion in performing.
She said that night, "I don't see myself doing anything but this..."
The line earned applause and renewed admiration for the lady who has brought so much pride and glory to the country.