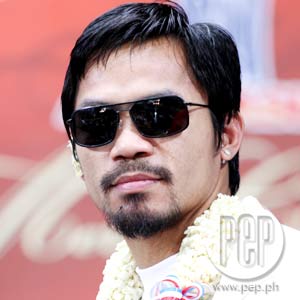 ---
Year 2009 has been a mixed bag of highs and lows. As a nation we felt immense pride in Manny Pacquiao's unprecedented seven titles, we wept in great distress during typhoon Ondoy, protested against the Ampatuan massacre in utmost shame. But if it's any consolation, this year saw a marked increase in terms of making our presence felt on the competitive global scene.
Boxer Pacquiao was not the only Filipino who gained rave reviews from the international community. With 2010 a few days away, PEP (Philippine Entertainment Portal) lists down some of the noteworthy achievements of the outgoing year.
MANNY PACQUIAO. Filipino boxing sensation Manny Pacquiao was in a big hurry to put to rest lingering doubts about his greatness. In 2009 alone, the charismatic ring icon top-billed two highly promoted megabucks Las Vegas fights with both matches ending in his favor.
Pacquiao's first conquest was British fighter Ricky Hatton who ended up kissing the canvas for good in the second round of their "The Battle of the East and West" bout on May 2. A sharp left hook knocked Hatton out cold, handing Pacquiao the IBO and Ring Magazine light welterweight titles respectively.
Manny then faced an equally strong and determined opponent in Puerto Rican Miguel Cotto in a fight bannered under the title "Firepower." The match held on November 14, 2009 proved to be more physical and tough for Pacquiao.
Cotto managed to hold his ground until the twelfth round when the fight was stopped and Pacquiao emerged victorious with an unprecedented seventh world title. Pacquiao's victory likewise bolstered his grip on the hotly contested pound for pound king title previously owned by his next opponent: the undefeated and trash-talking American boxer named Floyd Mayweather Jr.
And as if both impressive victories were not enough, Manny capped off his amazing run by making it to the cover of Time magazine's Asia edition. The honor placed Manny alongside international sports figures like golfer Tiger Woods, basketball legend Michael Jordan, Olympian swimmer Michael Phelps, and tennis stars Serena and Venus Williams, who were all featured by the magazine in the past.
ADVERTISEMENT - CONTINUE READING BELOW
But Manny is not the only boxer bringing pride to the country. Other Pinoy ring warriors currently making a name in the international arena include Nonito Donaire, Jeff Canoy and Bernabe Concepcion, among others. Boxing enthusiasts and critics are, of course, on the lookout for the next Pinoy ring hero to assume Manny's mantle should the proud son of General Santos finally hang up his gloves.
BRILLANTE MENDOZA. Beating the likes of Hollywood heavyweights Quentin Tarantino and Ang Lee is no easy feat. But that's exactly what Filipino filmmaker Brillante Mendoza accomplished on May 17 at the Cannes International Film Festival held in France after his crime film titled Kinatay earned the approval of the judges, who screened entries from well-known to budding directors.
Mendoza's triumph made him the first Filipino director to bag the coveted award for a full-length film. Kinatay tells of the grisly fate of a kidnap-rape victim who is severely battered before being murdered then chopped to pieces. The film, as expected, received mixed reviews with some foreign critics dismissing the movie as "harrowing... offering audiences no relief or redemption." Positive reviews, on the other hand, particularly from Sukhdev Sandhu of the UK's The Daily Telegraph, found the movie's dark undertone an "unforgettable denunciation of societal corruption."
Mixed reviews aside, Brillante's victory only stressed the bright possibilities awaiting Filipino artists in the international arena who continue to live in the shadow of the late great director Lino Brocka.
"To premiere there [Cannes] is something I can really be proud of... It's not easy to do these [sic] kind of films in a third world country. It's not easy to find a producer. You often feel alone. Sometimes I would go home after editing, at about two or three in the morning so tired and ask myself, 'Is this really what I want to do?' But then I can sleep and feel happy because I don't have any regret with my choices," Mendoza told THR.com in an interview.
ADVERTISEMENT - CONTINUE READING BELOW
EFREN PEÑAFLORIDA. "In the future, everyone will be world famous for 15 minutes," pop artist Andy Warhol confidently remarked in the '60s. Warhol's comment couldn't have been more appropriate today with the advent of modern technology and the Internet.
Not that advances in technology are a bad thing as mentioned by the local folk group Asin in one of their timeless songs. Technology, when put to good use, can be a great tool for spreading valuable information on a global scale.
Noticed by news behemoth CNN for his innovative efforts in bringing education closer to his less fortunate countrypeople, 28-year-old Efren Peñaflorida edged nine other contenders from different countries to be named CNN Hero of the Year. Efren's endeavors earned the attention of CNN after he was nominated by a Cavite-based youth group for its Hero of the Year search. Online voting opened to the public along with the recommendation of a designated panel—which included actress-host Whoopi Goldberg, CNN founder Ted Turner, and ex-US Secretary of State Colin Powell—helped determine the winner.
Efren spearheaded the "Kariton Klassroom" with the intention of reaching out to poverty-stricken youth deprived of a proper education. Peñaflorida singlehandedly founded his pushcart education program in the '90s until volunteers started coming in, prompting Efren to form the Dynamic Teen Company to formalize the group.
"My message to children of all races, please embrace learning and love it, for it will embrace and love you back and enable you to change your world," said Efren in his emotional yet brief acceptance speech.
EFFORTS FOR ONDOY VICTIMS. Much has been said and written about the devastating aftermath of typhoon Ondoy last September. With almost the entire Metro Manila and nearby provinces submerged in floodwaters, most of our celebrities went out of their way to help those in need. Days following the typhoon, the country's biggest networks initiated a massive fundraising charity drive to help the victims, with their respective stable of talents representing the efforts.
ADVERTISEMENT - CONTINUE READING BELOW
Barely three months after the tragedy, Ogie Alcasid organized a concert held at the Mall of Asia Concert Grounds in Pasay City, to generate additional funds for the typhoon survivors. Various artists from solo artists to bands graced the concert, which also saw the gathering of talents coming from competing networks as a sign of unity for a common cause.
OTHER TRIUMPHS. 2009 witnessed Filipinos rising above great adversities and earning global recognition. Young singer Rhap Salazar bagged the Junior Grand Champion Performer of the World at the 13th World Championships of Performing Arts and appeared as a guest at the Ellen DeGeneres Show, following the path previously set by Charice Pempengco.
Comedienne Eugene Domingo's lead comedy film Kimmy Dora pulled off a huge welcome surprise that went beyond local comedy genre. Applauded and praised by critics and film enthusiasts for its originality and wit, Kimmy Dora certainly exceeded all expectations while at the same transmitting a message that all is not lost as far as local commercial films are concerned.
The death of former president Corazon "Cory" Aquino on August 1 reminded everyone of her galvanizing effect on the nation in the late 1980s. Aquino's passing likewise stirred nationalistic pride among the Filipinos way before the national elections in 2010.
The final installment of the reunion concert of the legendary '90s band the Eraserheads is arguably the biggest OPM live event of the year. With no front acts and guest artists, the badly missed rock 'n' roll quartet singlehandedly filled the vast Mall of Asia Concert Grounds in Pasay with paying fans all eager to witness their old musical heroes play as one unit for perhaps the last time. The reunion gig proved that Filipinos performing in their own country can generate huge gate attendance, something that we commonly associate only with foreign acts visiting Manila.
ADVERTISEMENT - CONTINUE READING BELOW