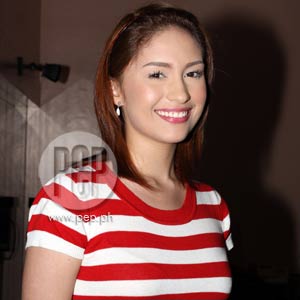 ---
The box-office success of Ang Panday though still in the early goings of the 35th Metro Manila Film Festival does not surprise young actress Stef Prescott. In fact, during a conversation with PEP (Philippine Entertainment Portal) days before the annual festival, she confidently predicted that the movie will emerge as the entry to beat in this year's roster.
"Sobrang excited ako sa outcome kasi I'm sure the outcome would be great," she boldly anticipated at the time.
Stef—whose last MMFF participation happened just last year as part of the cast of Shake, Rattle and Roll X—attributed the film's success to the good vibes she and her co-stars experienced while they were completing the project. Bong endearingly referred to Ang Panday as a "humble tribute" to the legacy left behind by the late action king Fernando Poe Jr.
The Filipino-American and former StarStruck Avenger also took note of the film's enticing visual effects as a big factor to catch the attention and interest of the children who represent the bulk of the viewing demographics during Christmas season.
Latest figures as of December 26 have shown Ang Panday occupying the top spot with P16.9 million followed by Vic Sotto's Ang Darling Kong Aswang (P16.7 million) and Shake, Rattle and Roll XI (16.2 million). Star Cinema's bet I Love You, Goodbye wound up at fourth with P11.7 million followed by Comedy King Dolphy's Nobody, Nobody But Juan with P8 million while Sharon Cuneta's Mano Po 6: A Mother's Love settled for the sixth slot with P6.7 million.
Filipino boxing icon Manny Pacquiao's movie Wapakman, on the other hand, was at the bottom of the race with P750,000, though it is still too early to count any of the trailing entries out as the festival will run until the first week of January 2010.
Since this is the time of giving and sharing, PEP asked Stef on the side regarding her insights about the true spirit of the season: "Hindi naman dapat laging materyal 'yong puwede mong ibigay. Ako, basta I spend time with my family and loved ones and nakikita ko na napasaya ko sila masaya na din ako."
ADVERTISEMENT - CONTINUE READING BELOW
SHARE THIS STORY Ang Panday's early box-office success" data-url="https://www.pep.ph/news/24252/stef-prescott-credits-good-vibes-to-ang-panday39s-early-box-office-success" data-desc="Stef's bold announcement turned out to be accurate as of press time." data-image="https://contents.pep.ph/images2/news/972037eab.jpg"> Ang Panday's early box-office success" data-url="https://www.pep.ph/news/24252/stef-prescott-credits-good-vibes-to-ang-panday39s-early-box-office-success" data-desc="Stef's bold announcement turned out to be accurate as of press time." data-image="https://contents.pep.ph/images2/news/972037eab.jpg"> Ang Panday's early box-office success" data-url="https://www.pep.ph/news/24252/stef-prescott-credits-good-vibes-to-ang-panday39s-early-box-office-success" data-desc="Stef's bold announcement turned out to be accurate as of press time." data-image="https://contents.pep.ph/images2/news/972037eab.jpg">
SHARE THIS STORY
Ang Panday's early box-office success" data-url="https://www.pep.ph/news/24252/stef-prescott-credits-good-vibes-to-ang-panday39s-early-box-office-success" data-desc="Stef's bold announcement turned out to be accurate as of press time." data-image="https://contents.pep.ph/images2/news/972037eab.jpg"> Ang Panday's early box-office success" data-url="https://www.pep.ph/news/24252/stef-prescott-credits-good-vibes-to-ang-panday39s-early-box-office-success" data-desc="Stef's bold announcement turned out to be accurate as of press time." data-image="https://contents.pep.ph/images2/news/972037eab.jpg"> Ang Panday's early box-office success" data-url="https://www.pep.ph/news/24252/stef-prescott-credits-good-vibes-to-ang-panday39s-early-box-office-success" data-desc="Stef's bold announcement turned out to be accurate as of press time." data-image="https://contents.pep.ph/images2/news/972037eab.jpg"> Ang Panday's early box-office success" data-url="https://www.pep.ph/news/24252/stef-prescott-credits-good-vibes-to-ang-panday39s-early-box-office-success" data-desc="Stef's bold announcement turned out to be accurate as of press time." data-image="https://contents.pep.ph/images2/news/972037eab.jpg">