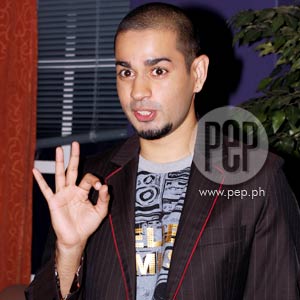 ---
Radio DJ and TV host/comedian Sam YG appeared yesterday, January 10 in Showbiz Central to tackle current issues involving him, with fellow 89.9 Magic DJ and Showbiz Central TV host Mo Twister dishing out the questions.
Sam YG, also known as Shivaker, recently explored TV hosting through the noontime show Eat Bulaga!. Being a close friend to Brazilian model Daiana Menezes, his co-host in the said show, the two often get teased by their EB! Dabarkads. This gave birth to the rumor that the two may already have a serious relationship.
SAM AS SHIVAKER. Sam slips into his alter-ego Shivaker in TV shows like Eat Bulaga! and Cool Center, and there he assumes this Indian man, complete with head turban and distinct accent with a sense of humor, to boot.
With his portrayal of an Indian who likes to joke about everything Indian, does Sam think that he may have offended the Indian community at times?
"Iyong Shivaker, apat na taon ko na 'yan ginagawa," smiled Sam. "So far, wala pa naman ako nae-encounter. I actually hang out with a lot of Indian people and they actually like it. I never discriminated about their ways or anything like that. I'm actually very proud of that because they are very successful businessmen. I don't think there's anything to be ashamed of. They actually helped the micro-economy of the country. Nakakatulong 'yan. Wala akong sinabi na derogatory and plus above anything else, I am pure Indian."
DAIANA MENEZES. Sam and EB! co-host Daiana Menezes are close. They have good chemistry on TV and this closeness often becomes the subject of teasing among their EB! co-hosts. Is it true that he and Diana are already a couple?
"Hindi totoo," said Sam. "People in EB! make fun of us kasi we are good friends. We talk and hang out, so natsismis."
ADVERTISEMENT - CONTINUE READING BELOW
Well, friends sometimes end up as lovers. Is their friendship ever going to go somewhere to just "more than friends?"
"'Yan ang magandang showbiz answer, ang 'Friends lang kami!'" he laughed. "If it will lead to something else, I don't know kasi hindi ko masasabi what's gonna happen."
Daiana recently broke up with her boyfriend, model turned actor Carl Guevarra (formerly known as Carlo Guevara). Is he the reason behind the breakup? (CLICK HERE to read related story.)
"Not at all, kasi alam ko they've broken up even before me and Daiana got close. We hang out, pero marami kami," explained Sam.
If he isn't romantically pursuing anyone right now, does it mean that he entered show business just to get lots of girls?
"Ang sakit, e!" reacted Sam in a mocking way. "So, sinasabi ay babaero ako? Ito lang masasabi ko para sa kanila: Hindi ako babaero, lalakero lang sila. So, tama na..."
After the laughs, Sam shifted to the real reason behind his entering show business. He explained, "Radio, and like EB and Cool Center, I love what I do. I do it with passion. When I'm Shivaker, I do it with passion and it makes people smile, whether be it on radio or TV. Wherever you're coming from, it's hard work but it's passion."
Success can make one's head swell. When asked if success ever got into his head, Sam joked, "Alam ko si Shivaker, yung turban hindi na magkasya! Si Sam naman, ayos lang."