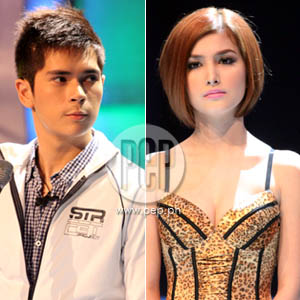 ---
StarStruck V Survivors Piero Vergara and Princess Snell had very different reactions when their name was called last Sunday night, January 10, at the double elimination of GMA-7's reality-based artista search. In a truly heart-clenching episode, where perception had the most pull, Piero and Princess bade goodbye to their dreams of being the Ultimate Survivor.
Piero was shocked by the outcome and was almost in tears backstage sharing his thoughts with PEP (Philippine Entertainment Portal). "Of course not, it is not something I hoped for. I did not expect it and I honestly thought it was Enzo [Pineda] who would be eliminated," said the youngest male contestant this batch.
Princess, meanwhile, had a little more expectation. "Siyempre, I wasn't expecting it kasi dapat bigyan mo ng confidence ng sarili mo, pero naisip ko rin naman baka matanggal ako kasi ayaw ako ng tao," she said.
FACTOR 3. Both contestants were aware of Factor 3 being in place, that 60 percent of the total votes will come from the viewers, 20 percent will come from their fellow Survivors and 20 percent from the StarStruck Council (Lolit Solis, Iza Calzado, and Floy Quintos). Piero felt that the "aloof and overconfident" perception of the TV viewers was what got him eliminated. But he feels that in real life he's not like that.
"Audience is power, everybody who joins there wants to win and I also wanted to win," Piero said.
Losing the competition was on the heels of his garnering top scores in two of the challenges that week. First, the hosting challenge with Ms. Lucy Torres-Gomez who commented that, "Piero will be an effective host someday, bilib ako sa part na ginagawa niya ang ayaw gawin ng guests."
Kyla also gave Piero top nods for the singing duet challenge. "Bibigyan ko siya ng eight and a half. Siya ang pinaka-okay sa lahat ng boys," she praised.
ADVERTISEMENT - CONTINUE READING BELOW

Princess, however, was voted out of the singing challenge by Kyla, and got a middle score for the hosting challenge by Lucy Torres.
"Hindi siya tumiklop sa pressure and inangkin niya ang pag-entertain and she really shone," said Lucy.
Like Piero, Princess also knew how the audience and her fellow StarStruck contestants perceived her and how it will affect her standing, but still remained true to herself and what she can offer.
"Hindi ko masasabi na plastic ako. Kasi from the start, ayaw nila sa akin kasi kalaban nila ako. When I am not good with some talent, inaamin ko naman. Alam ko na magaling ako sa acting, hosting, and dancing," Princess confidently said.
The Pauleeen Luna look-alike was also vocal about her rift with fellow StarStruck Survivor Rox Montealgre.
"Kung pagpipiliin ako, gusto ko matanggal si Rox. She is trying to be someone else. She has zero friends and she is trying to be someone she is not," she said frankly.
When asked who she will miss and who she is closest to among the Survivors, Princess shared that she will miss the boys Rocco Nacino and Enzo Pineda the most. "Para kaming magkakapatid, para kaming magpinsan nina Rocco and Enzo. Enzo is very humble, pinakikisamahan lahat, and Rocco has dedication sa trabaho. May talent at attitude siya na maganda."
Piero said that he will also miss his fellow Survivors. "I am closest to Ian Batherson."
Both Princess and Piero are still optimistic about their future in showbiz.
"I want to be able to show my potentials and push them to the limit," Piero said. He is also looking forward to going back to school while pursuing his dreams at the same time.
Princess is looking into improving her singing skills, and wants to follow in the footsteps of Marian Rivera.
ADVERTISEMENT - CONTINUE READING BELOW
PERCEPTION MATTERS. The StarStruck Council agreed that this is not the end of the road for Princess and Piero.
"They already have one foot in the door," commented Iza.
Lolit revealed that at this moment in the competition, the boys are taking the upper hand. "Kung puwede, dalawang lalake ang mananalo," she said.
But Floy observed, "The women are hungrier for it. The claws are coming out at this point the game."
The unanimous opinion of the judges was that the elimination of Princess and Piero was the audience's choice, more than anything else.
"Perception has a lot to do with it, and in this business, perception is everything," divulged Floy. "Kahit anong pagma-mask ng PR 'yan, how they are off camera and how people around them perceive them will be how the audience perceives them."
The Council revealed that as powerful as the audience perception is in the competition, it could easily be swayed at the drop of a hat, considering the many twists, turns and "Factors" present in the game.
"There have been cases when we like a person, then they will soon fade" said Iza.
"It may be a defeat but who knows, your time will come," Floy offered.
All the instances make for an exciting competition that audiences should not miss.
CLICK HERE for more photos.