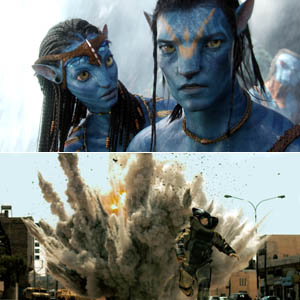 ---
Avatar and The Hurt Locker received nine nominations each in the 82nd Academy Awards, including Best Picture. The nominations were announced by actress Anne Hathaway and Academy of Motion Picture Arts and Sciences president Tom Sherak earlier tonight (Manila time), February 2.
This year, there are 10 nominees for Best Picture instead of the usual five. Aside from Avatar and The Hurt Locker, the other nominees for Best Picture are The Blind Side, District 9, An Education, Inglourious Basterds, Precious, A Serious Man, Up, and Up in the Air.
Avatar's James Cameron and The Hurt Locker's Kathryn Bigelow are pitted against Lee Daniels (Precious), Jason Reitman (Up in the Air), and Quentin Tarantino (Inglourious Basterds) for Best Director.
Cameron is the only past winner in this category, although Bigelow is expected to win this year since she won in the Directors Guild Awards. Incidentally, Cameron and Bigelow were married before.
Avatar is now on its way to breaking the $600 million domestic gross of Titanic and become the top-grossing film of all time. Cameron directed Avatar and Titanic; the latter swept the Oscar Awards in 1998.
Hollywood superstar George Clooney leads the nominees for Best Actor. He is nominated for his performance in Up in the Air. He will be going up against Jeff Bridges for Crazy Heart, Colin Firth for A Single Man, Morgan Freeman for Invictus, and Jeremy Renner for The Hurt Locker.
Bridges and Clooney have been nominated in this category in the past; Bridges for Starman in 1985 and Clooney for Michael Clayton in 2008. Clooney already won as Best Supporting Actorin 2006 for Syriana, and also Freeman in 2005 for Million Dollar Baby. Bridges, who is the sentimental favorite to win the Best Actor this year, has been nominated in the Best Supporting Actor category three times already: The Last Picture Show (1972), Thunderfoot and Lightbolt (1975), and The Contender (2001)
ADVERTISEMENT - CONTINUE READING BELOW
Meryl Streep nabbed her 16th Oscar nomination when she was named one of the Best Actress contenders for her performance as chef Julia Child in Julie & Julia. Streep holds the record of the most number of Oscar nominations of any actor—13 for Best Actress and three for Best Supporting Actress. She has won twice—Best Supporting Actress in 1980 for Kramer vs. Kramer and Best Actress for Sophie's Choice in 1983.
The other nominees for Best Actress this year are Sandra Bullock for The Blind Side, Helen Mirren for The Last Station, Carey Mulligan for An Education, and Gabourey Sidibe for Precious.
Streep and Mirren (The Queen) were past winners in this category while the three others are first-time nominees. Streep and Bullock are the top contenders this year.
The nominees for Best Supporting Actor this year are Matt Damon (Invictus), Woody Harrelson (The Messenger), Christopher Plummer (The Last Station), Stanley Tucci (The Lovely Bones), and Christoph Waltz (Inglourious Basterds).
Damon and Harrelson were previously nominated for Best Actor; Harrelson in 1997 for The People vs. Larry Flint and Damon in 1998 for Good Will Hunting. Christoph Waltz, an Austrian actor, is the heavy favorite to win this award, having won almost all critics and guild awards and the Golden Globe.
Two stars from Up in the Air—Vera Farmiga and Anna Kendrick—are nominated for Best Supporting Actress. They will be going up against Penelope Cruz for Nine, Maggie Gyllenhaal for Crazy Heart, and Mo'nique for Precious. Cruz won in this category last year for Vicky Cristina Barcelona, while the other four are first-time Oscar nominees. Mo'Nique is expected to win this handily.
ADVERTISEMENT - CONTINUE READING BELOW
The winners will be announced on March 8 (Manila time).
Here is the complete list of nominees:
Best Picture
Avatar
The Blind Side
District 9
An Education
The Hurt Locker
Inglorious Basterds
Precious
A Serious Man
Up
Up In the Air
Best Actor
Jeff Bridges, Crazy Heart
George Clooney, Up in the Air
Colin Firth, A Single Man
Morgan Freeman, Invictus
Jeremy Renner, The Hurt Locker
Best Actress
Sandra Bullock, The Blind Side
Helen Mirren, The Last Station
Carey Mulligan, An Education
Gabourey Sidibe, Precious
Meryl Streep, Julie & Julia
Best Supporting Actor
Matt Damon, Invictus
Woody Harrelson, The Messenger
Christopher Plummer, The Last Station
Stanley Tucci, The Lovely Bones
Christoph Waltz, Inglourious Basterds
Best Supporting Actress
Penelope Cruz, Nine
Vera Farmiga, Up in the Air
Maggie Gyllenhaal, Crazy Heart
Anna Kendrick, Up in the Air
Mo'Nique, Precious
Best Director
Kathyryn Bigelow,The Hurt Locker
James Cameron, Avatar
Lee Daniels, Precious
Jason Reitman, Up in the Air
Quentin Tarantino, Inglourious Basterds
Best Original Screenplay
Mark Boal, The Hurt Locker
Alessandro Camon & Oren Moverman, The Messenger
Joel Coen & Ethan Coen, A Serious Man
Pete Docter, Bob Peterson & Tom McCarthy, Up
Quentin Tarantino, Inglourious Basterds
Best Adapted Screenplay
Jesse Armstrong & Armando Iannucci, In the Loop
Neill Blomkamp & Terri Tatchell, District 9
Geoffrey Fletcher, Precious
Nick Hornby, An Education
Jason Reitman & Sheldon Turner, Up in the Air
Best Animated Film
Coraline
Fantastic Mr. Fox
The Princess and the Frog
The Secret of Kells
Up
Best Foreign Language Film
El Secreto do Sus Ojos (Argentina)
Un Prophete (France)
The White Ribbon (Germany)
Ajami (Israel)
The Milk of Sorrow (Peru)
ADVERTISEMENT - CONTINUE READING BELOW
Best Art Direction
Avatar
The Imaginarium of Doctor Parnassus
Nine
Sherlock Holmes
The Young Victoria
Best Cinematography
Avatar
Harry Potter and the Half-Blood Prince
The Hurt Locker
Inglourious Basterds
The White Ribbon
Best Costume Design
Bright Star
Coco Before Chanel
The Imaginarium of Doctor Parnassus
Nine
The Young Victoria
Best Documentary
Burma VJ
The Cove
Food, Inc.
The Most Dangerous Man in America: Daniel Ellsberg and the Pentagon Papers
Which Way Home
Best Editing
Avatar
District 9
The Hurt Locker
Inglourious Basterds
Precious
Best Makeup
Il Divo
Star Trek
The Young Victoria
Best Score
Avatar
Fantastic Mr. Fox
The Hurt Locker
Sherlock Holmes
Up
Best Song
"Almost There," The Princess and the Frog, Randy Newman
"Down in New Orleans," The Princess and the Frog, Randy Newman
"Loin de Paname," Paris 36, Reinhardt Wagner & Frank Thomas
"Take It All," Nine, Maury Weston
"The Weary Kind," Crazy Heart, T-Bone Burnett & Ryan Bingham
Best Sound Editing
Avatar
The Hurt Locker
Inglourious Basterds
Star Trek
Up
Best Sound Mixing
Avatar
The Hurt Locker
Inglourious Basterds
Star Trek
Transformers: Revenge of the Fallen
Best Visual Effects
Avatar
District 9
Star Trek