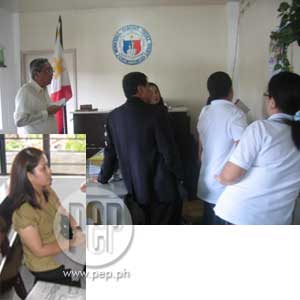 ---
The arraignment in the "Reckless Imprudence resulting to Homicide" case against Richard Gutierrez has been rescheduled, after the actor failed to show up at the Municipal Circuit Trial Court in Silang, Cavite, yesterday, February 10.
The criminal case against the GMA-7 primetime star is the result of a May 22, 2009, car accident in Silang, Cavite, which claimed the life of Richard's personal assistant Nomar Pardo, 47. Richard was driving the car. (CLICK HERE to read related story.)
Richard's legal counsels Gener Asuncion, Ma. Lourdes Panganiban, and Sheryl Mallari presented to Judge Ma. Victoria N. Cupin-Tesorero a medical certificate stating the reason for the actor's non-appearance.
The medical certificate indicated that the actor was "physically unfit for travel" because he was "weak" with "acute gastroenteritis."
Judge Cupin-Tesorero accepted the medical certificate, thereby excusing the actor from the arraignment. When Nomar's lawyer Ombra Jainal objected to this, the judge said, "This is notarized. If this is not the truth, you go after the lawyer who notarized it."
Following regular court procedure, if the judge had not excused Richard, then the complainant—in this case, Lorayne Pardo, widow of Nomar and mother of his two children—can request the court to issue an arrest warrant against the respondent—Richard—for failing to appear on the day of the arraignment.
Lorayne Pardo was present in the February 10 proceeding.
Richard Gutierrez is expected to appear in Judge Tesorero's court on March 31, 2010, the date set for the next arraignment. Judge Tesorero said, "The court is allowing a new date because there is a medical report, provided this is the last time."
The judge added, "The last date is not transferable anymore."
UNFIT FOR TRAVEL. PEP (Philippine Entertainment Portal) obtained a copy of the medical certificate.
The medical certificate, dated February 9, 2010, was issued by the Oreta Medical Clinic, with address at St. Luke's Medical Center, in Quezon City. It was signed by the clinic's Medical Director Jose M. Oreta, Jr., M. D.
ADVERTISEMENT - CONTINUE READING BELOW
It was notarized by Atty. Christine F. Bio in Makati City on the same day.
According to the certificate, Gutierrez was found "physically unfit for travel" due to "acute gastroenteritis with dehydration."
The February 9 medical certificate had this in its remarks section: "Patient developed diarrhea for three days now. He is very weak with fever and signs of dehydration. He is advised to rest at home."