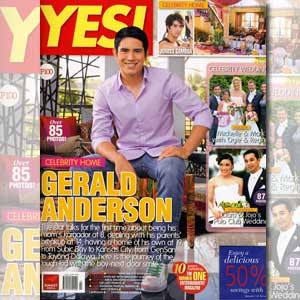 ---
Gerald Anderson did not always lead a charmed life. Many assume that just because he was born to an American father and a Filipina mother, his cards have always held good fortune. Gerald sits with YES! magazine this March in the comfort of his home and talks about his life's journey before showbiz beckoned. It is a story that is made richer by the testimonies of his parents, Randy and Vangie.
Fans first got to know Gerald as the Fil-Am cutie born in Olongapo and raised in General Santos City, but many don't know that he also spent much of his childhood in the States. Gerald's father Randy talks about how he first bought a big house in San Antonio, Texas, then later moved the family to Kansas City, Missouri upon his retirement from the U.S. Navy.
Even if the family lived in a middle-class neighborhood, Randy explains to YES!,"Missouri is not New York or Los Angeles or even Manila. A lot of people are rural, they come from the country... It wasn't a ghetto, or the slum... But it wasn't the best place."
Eventually, the family moved to Springfield, Missouri, where they had a house with a sprawling backyard. It was here that Gerald's mom Vangie set up her own store and started a weekend tiangge selling Filipino food to Pinoys living in the neighboring towns. "[Si Gerald] talaga laborer ko. Kumbaga, kargador ko siya," Mommy Vangie proudly tells YES!.
At the age of eight, Gerald would take care of many things, including doing the heavy lifting for their senior citizen customers. They could have enlisted the help of others, but for Gerald, helping out his mom was not a burden. "Gusto ko ako ang gagawa ng trabaho na 'yan kaysa sa ibang tao," he says, "Dapat ako, kasi para sa mom ko, para sa gusto niya."
ADVERTISEMENT - CONTINUE READING BELOW
Although Mommy Vangie's homesickness found her moving back to her hometown in General Santos City alone, it was Gerald's devotion to her that reunited them. Gerald, together with his father and brother, came to GenSan to visit her. But minutes away from boarding the flight that would take them back to the States, Gerald realized that she wouldn't be joining them and he refused to let go of her.
"Hay, si Gerald talaga, kung may kamera kami no'n para kaming shooting, umiiyak talaga," Mommy Vangie tells YES!. The sight of his son crying and refusing to leave his mother made Randy bring his family back to GenSan, and he later returned to the States by his lonesome.
Gerald may now be living on his own in Manila, but his house has a room for Mommy Vangie and for his brother Kenneth, who is a pilot currently in Florida. More than 85 photos in the March issue of YES! shows how the three-storey house looks very modern and masculine, while the interiors also carry the feel of a modern bachelor's pad. Gerald's fans played a big role in furnishing his house—the main door made of narra was a present from a fan, and so were the dining set, a console table by the second-floor window, miniature cars to add to his collection, and other home accents.
Kim Chiu also lends her touch to his house, as the NBA bobbleheads she gave him sit on a shelf above his TV set and the center table is displayed prominently in his living room. But her biggest contribution to his house is the impressive silver Samsung refrigerator that dominates his kitchen. A birthday present from Kim, Gerald was overwhelmed by the sight of the two-door ref with a freezer in the bottom and a water- and ice-dispensing feature. "Sobrang laki! Lumiit 'yong kusina ko dahil doon!" he recalls telling SNN last year.
ADVERTISEMENT - CONTINUE READING BELOW
Is the grand gift a sign that they have, indeed, taken the on-screen chemistry off-screen? "We're talagang mutual understanding, pero hanggang doon pa lang," he admits. What exactly does that mean? Find out in the March issue of YES!, available in newsstands, bookstores, and supermarkets nationwide.
YES! has a digital edition available to international subscribers only. Visit www.yesdigital.com.phfor more details.
YES! digital edition is available first week of March.