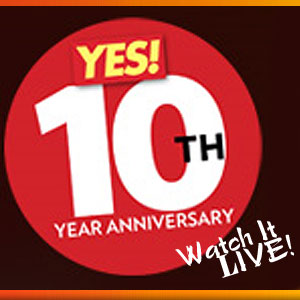 ---
YES! Magazine has been bringing us the latest and greatest in everything show business for the past ten years. From serious in-depth celebrity reports to countless personal photos of the stars, YES! is there to fulfill the entertainment aficionado's need to be in the know.
Tonight, all roads lead to Taguig City's NBC Tent to celebrate YES!'s 10 glorious years with the brightest stars in the country.
Watch the red carpet coverage live from the comfort of your own homes, be it in the Philippines or abroad, thru PEP's live webcast coverage of this momentous event. Be updated by the minute and watch the celebration unfold from start to finish.
Not only that, you will be able to make your presence known in the event by typing in your comments—a shout out to your favorite stars or just to say hello to your loved ones who may happen to be watching the same event!
To watch, just take note of the countdown timer on the upper right hand of PEP's home page and wait till it reaches zero. After that, just click and watch!