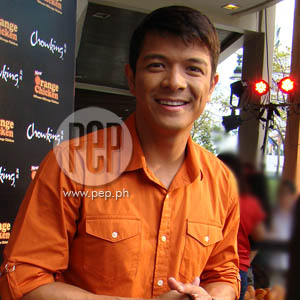 ---
Jericho Rosales was very game in teaching the invited media, including PEP (Philippine Entertainment Portal), the steps for the "chicken dance" during the launching of his latest endorsement, Chowking's Orange Chicken, yesterday afternoon, March 17, at its branch in The Fort, Taguig City.
However, when the media asked him if he had already taught these moves to SNN field reporter Ceska Litton, whom he admitted he is dating exclusively, Jericho just smiled and indirectly answered, 'Everybody knows the 'chicken dance' now. This is a new career for me, I'm a dancer now."
The 30-year-old actor requested the media not to ask him questions about his rumored relationship with Cesca. Jericho apologetically explained, "I can't talk much about it anymore because I just wanna keep it private na lang. I'm sorry I'm very careful [with this]."
Instead of talking about his current lovelife, Echo, as he is fondly called, just told the media, "I'm really happy and inspired. Everything is inspired."
He reiterated, "I just don't wanna talk about it. Because it's something that I really enjoy when I'm not working. Kumbaga, if there's a place that I can go to, like family, di ba? It's like family to me, di ba?
"It's like everybody knows that I have a son. Everybody knows that I have a little boy but I don't talk much about him because I love him and I just wanna, you know, have a simple life with him. With this naman, yeah, I'm happy. But I'd like to keep it quiet and simple."
ADVERTISEMENT - CONTINUE READING BELOW
Does keeping his lips sealed have something to do with his past relationships?
"I don't even wanna compare," Jericho quickly replied. "And whatever happened to me, I have no regrets. Sa akin talaga, enjoy ako sa lahat. My past relationships talaga, there were ups and downs talaga. But I just discovered that it's nice to have a quiet relationship."
When pressed further for a confirmation, Echo said, "Just like what I said, I don't wanna stress on that area of my life. But I'm really happy. You know me guys, I don't hide anything."
The actor has always wanted to be silent about his private life, especially about lovelife. "It's been on my plan na talaga. Ever since noong single pa ako, sabi ko, I wanna keep that part of my life for myself... I've got a lot of experiences na but I really chose to be mum about it," he said.
"IF [KRISTINE] IS HAPPY, I'M HAPPY." On another topic, there are talks recently about the supposed planned wedding of Jericho's ex-girlfriend Kristine Hermosa and Oyo Sotto.
Although there's still no official statement from Kristine and Oyo, Jericho does not have any problem with it. "Man, if she's happy, I'm happy for her. 'Yon lang naman 'yon, e. That's genuine love," he said.
Kristine's former boyfriend and screen partner said that they never really talked about their personal relationships. "But she told me that he's a nice guy [Oyo]. And I can see that. You know, every time na magkikita kami, medyo light, walang angas. He's a very nice guy."
ADVERTISEMENT - CONTINUE READING BELOW
Echo also expressed his appreciation to Echo-Kristine followers. However, he pleaded to the fans that they should still support him and Kristine even if they're now being paired with other celebrities.
He explained, "If it's about the loveteam, I love EchoTiners, I love also the Echomen, and lahat ng fans namin or mga followers namin. But I would love to live in peace and happiness."