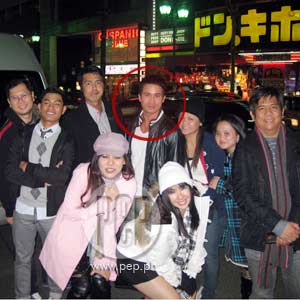 ---
Sam Milby blacked out in a public toilet in Tokyo! The case: Overfatigue and sleep.
PEP's resident blogger Giselle Sanchez recounts the details in her blog Gspot (CLICK HERE):
"After the successful Tokyo concert , I was very much surprised because Sam still joined us for dinner. I guess he was hungry. Sam said he liked our group—Zanjoe, Bugoy, Laarni, Caress [his road manager], Monch Novales [Star Magic], Donnie [PDA road manager], Enrique Olives [TFC Japan head], Jen Mariano, Mickey Muñoz [TFC], Rigi Bumagat [TFC], Keren Pascual and myself.
"After dinner, some members french-exited home, others proceeded to shop in the 24-hour superstore Don Quixote. Laarni, Bugoy, Zanjoe and I were planning to go Roponggi bar hopping. We were going to invite Sam but he excused himself for the bathroom. Then he disappeared.
"We all thought he went home since he really looked very tired so we proceeded to go bar hopping without Sam. But TFC Japan head Enrique Olives had a weird feeling in his spine so he went back to the bathroom with Bugoy and Zanjoe and, true enough, Sam was still inside the bathroom.
"He passed out. He told Enrique he just felt dizzy and blacked out. He was in the Japanese public toilet floor for a good thirty minutes. It was a good thing Japan is known for its honesty, so nobody got his wallet while he was flat on the bathroom floor.
"When Enrique arrived, the manager was trying to help Sam up. Please take note that Sam did not drink any Sake or red wine. Averaging eight hours of sleep in three days, rehearsing and performing a total of twenty songs in a performance level, kissed and mobbed by literally a thousand women, Sam's body could not take the stress toll and gave up. And it just had to be in a public bathroom without anybody knowing it..."
ADVERTISEMENT - CONTINUE READING BELOW
More details when you CLICK HERE.