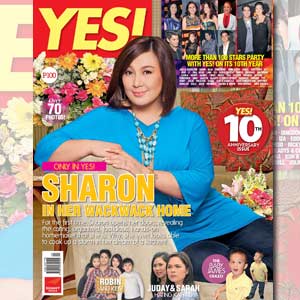 ---
When the cameras stop rolling, Megastar Sharon Cuneta heads home to Wack-Wack, where she becomes just like any other wife and mother that tends to her family's needs. YES! magazine captures the Megastar at home this April, as Sharon opens the doors to her Wack-Wack home for the first time ever.
The Wack-Wack residence has a warm and cozy feel. The living rooms showcase souvenirs from Sharon's travels and various paintings by esteemed artists like Juan Luna and Mauro "Malang" Santos. Photos of daughters Frankie, Miel, and KC are also prominently displayed in the living room. As Sharon tells YES!, "You know, my smiles that are really from my heart of hearts, they're the ones reserved for my kids, 'cause they're the only ones that can bring them out."
Her smile gets even brighter at the mention of the latest addition to her family—her adopted three-month-old son Miguel. Sharon shares, "After my three girls, parangI was thinking how nice it would be to adopt a boy."
When the opportunity finally presented itself, Sharon just knew in her heart that Miguel was meant for her. But first, she had Frankie and Miel to worry about. "Kinausap namin, because that was one of the concerns, parang baka magselos," she says. "But you know what, oddly enough, I think it will balance out the rivalry between the two. Because there's rivalry whether they admit it or not, e, di ba?Actually that's what happened. Miguel balanced it out."
A self-confessed homebody, Sharon also talks about cooking with her kids and teaching them her specialties, as YES! features her home in more than 70 photos.
ADVERTISEMENT - CONTINUE READING BELOW
A 10th Anniversary Special, the April issue also features the red carpet photos of the star-studded YES! 10th Anniversary Party.
YES! magazine is available in newsstands, bookstores, and supermarkets nationwide. A digital edition of YES! is also available for international subscribers (CLICK HERE). For subscription details, visit PEP.ph.