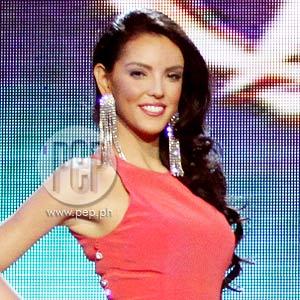 ---
Krista Arrieta Kleiner is miles away from boyfriend Jay R and the look on the R&B singer's face shows that he really misses her. Krista is on tour as winner of the Bb. Pilipinas-International title, and one of her responsibilities is to appear alongside Spanish crooner Julio Iglesias in his concerts abroad.
Rumors are circulating that Jay R is bothered by his girlfriend's proximity to the reputed ladies' man. In fact, Iglesias was once married to a Filipina, journalist-model Isabel Preysler, from 1971 to 1979 and they had three children. Eventually, the marriage was annulled.
DEFENDING KRISTA. When Startalk interviewed Jay R yesterday, April 24, the singer admitted feeling a little down.
"Hindi naman selos pero nalungkot lang po," he said. "Siyempre, kinuha ni Julio po si Krista for three months pa. Every day naman po nag-uusap kami. She assures me na okay naman siya and he treats her like a daughter. Actually very protective nga din po [si Julio]. It is good na that they are taking good care of her."
Aside from the Iglesias issue, she has also been rumored to be the one who blew the whistle on Bb. Pilipinas-Universe Maria Venus Raj. Discrepancies were found in Venus' birth records, leading to her dethronement.
Speaking up for his girlfriend, Jay R said, "She has better things to do, 'tapos these people are just thinking up stories about her kasi she's not here to defend herself. Siyempre, na-frustrate siya na she could not say her piece. Pero it is impossible na ginawa ni Krista iyon, e, kasi she is a very nice person. And if it comes down to it, I'm sure she's gonna make peace with Venus. Wala naman siyang gustong awayin or anything to that."
ADVERTISEMENT - CONTINUE READING BELOW
KRISTA SPEAKS UP. Startalk called up Krista, who is currently taking a break in the U.S., to get her side on the issues.
She revealed that she was in Orange County, California, visiting her family. "We're on break ngayon from our tour with Julio," she said. "We just finished our Asian tour and before we start the other tours in Washington, Egypt, Morocco, New York, Las Vegas, he gave me some time out to spend with my family."
Host Butch Francisco asked Krista, "Ikaw nga ba ang nag-feed sa Bb. Pilipinas Charities na may problema si Venus sa kanyang documents?"
Krista answered, "That is absolutely not true at all. I promise you. I was so happy for her when she won because she worked hard on the title. When I left, everything was fine and then nakita ko lang sa news when I was on tour with Julio, e, na de-throne siya. I was very saddened by that kasi I know how important it was to her. Wala talaga akong kinalaman diyan. Whatever rules Bb. Pilipinas Charities has, that is up to them and sila lang nakakaalam lahat niyan, e. It is really none of my business to interfere and I would never do anything to take away from another person.
"I am very happy with my title and I am so proud of what I have. There is no reason to be bitter or sullen because I'm having the time of my life. I would never try to strip someone of their happiness."
ADVERTISEMENT - CONTINUE READING BELOW
When informed of how Jay R's been defending her, Krista laughed and praised her boyfriend. "Kinekuwento nga niya sa akin na lagi siyang tinatanong. I am thankful na he is doing his best to defend me. Sana po, tigilan na po ng tao ang intriga na 'yan kasi walang kuwenta ang intriga na 'yan. I would never do something like that. It is not my personality and whatever rules Bb. Pilipinas has, sa kanila lang po 'yan."
What about the rumor linking her to Iglesias? Has he attempted to court her?
"Attempt?" she laughed. "Julio has the reputation of being a ladies'man, but ngayon po he has settled down. He has a wife and beautiful kids of whom he is very proud. Lagi niya pinapakita pictures nila sa akin. We always talk about family and how he loves his. He is very sweet and malambing, pero lambing niya sa akin, e hindi ligaw kundi bilang tatay po talaga. He is concerned for my safety and wellbeing. He wants to help me succeed and be the best person I can be."