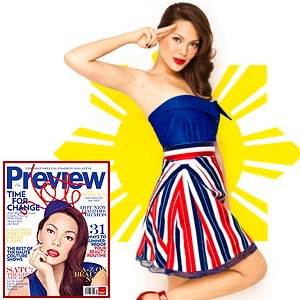 ---
KC Concepcion spent many years abroad, but it was in these years that she truly basked in Pinoy pride.
"You're trying to find out how you fit in and I was most proud of being from this exotic tropical island," she tells Preview as she graces its cover this May. "I wanted to be tan all the time. So it was really weird coming back home, and people wanted to be stark white! [They] would be talking about nose jobs and I'd be like...parangI want to keep what's Filipino about myself!"
Despite being exposed to different cultures and having a global perspective, KC's core remains truly Filipino.
"The importance of family, or a woman's role, how to respect your elders, and Christianity... those are the top four things that I probably will keep with me forever, that I'll keep from being Pinoy," she shares.
KC finds that despite being a developing country, the Philippines has grown to be very fashion forward.
ADVERTISEMENT - CONTINUE READING BELOW
"I think we're becoming more open. You see it on TV, in the way people have been dressing in the last five years," she points out, "People have just been more assertive with their fashion, with their personalities. They're not afraid to wear what they want anymore."
This assertiveness should also apply to making our voices heard in the upcoming national elections. As Preview's cover and cover shoot are inspired by the colors of the Philippine flag, the May issue hopes to show that nationalism is definitely in fashion.
Preview editor-in-chief Pauline Suaco-Juan says, "We're not telling you who to vote for—just that you ought to. Going out there and exercising your right to vote shows that you believe in hope; you believe in change; and you believe in our Motherland."
Be inspired to cast your ballot by grabbing your copy of the May issue of Preview, available in newsstands, bookstores, and supermarkets nationwide. For your daily dose of fashion, visit Preview's online affiliate, StyleBible.ph.
ADVERTISEMENT - CONTINUE READING BELOW