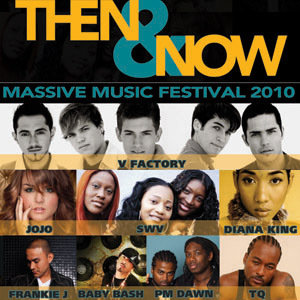 ---
Despite a few glitches here and there, last Saturday night's Then and Now Massive Music Festival was relatively successful.
Held at the SM Mall of Asia Concert Grounds last May 15, the Then and Now Massive Music Festival brought together past and present pop and R&B acts that brought chart-topping hits to the music industry. It was produced by Divan Media.
Foreign artists in the lineup included JoJo, Diana King, Frankie J, Baby Bash, P.M. Dawn, SWV, All-4-One, V Factory and TQ. Filipinos filled the concert grounds to listen to a string of nonstop hits from the foreign acts who flew in from the United States.
IMPATIENT. Local crooner Myrus opened the show at 9 p.m. While his vocal runs and stylings were top-notch, the unusually impatient audience couldn't wait for him to finish singing. Several members of the crowd even heartlessly shouted "No more!" after he finished his set.
ADVERTISEMENT - CONTINUE READING BELOW
Myrus, a new R&B artist from Viva, sang six songs: "I'm Yours" by Jason Mraz, "My Love" by Westlife, "Love Takes Time" by Mariah Carey, "Kahit Kailan" by Southborder, "2 Become 1" by Spice Girls, and "All at Once" by Whitney Houston.
Next to take the stage was boy band V Factory, who sang four songs: "Fade," "Get Up," "These are the Days," and "Love Struck." Audience reception for V Factory was lukewarm at first, but after the four guys introduced themselves, the audience loosened up and danced to their songs.
Next up was R&B artist TQ, who was very successful in getting the whole audience worked up. He taught the audience dance steps like the bounce, rocking the boat, and waving hands. His song "Westside" was one of the songs that the audience sang along with.
Next was one-half of hip-hop duo P.M. Dawn, D.J. Minutemix, who sang their hit songs like "Looking Through Patient Eyes" and "I'd Die Without You." Although the audience reception for P.M. Dawn was almost quiet, the foreign artist kept saying "Salamat."
ADVERTISEMENT - CONTINUE READING BELOW
BEST MOMENTS. The audience cheered when Diana King took the stage. Her songs "Shy Guy," and "Say a Little Prayer" were among the songs the audience wanted to hear. Diana King led a very energetic number, jumping and dancing on the stage barefoot. The audience loved her.
The audience also loved current R&B artist Frankie J. He sang his hit love songs "Don't Wanna Try" and "More Than Words" to a captive audience. Women swooned when he sang his new single "Crush," and men envied his voice when he sang "Obsession."
His duet with Baby Bash on the song "Suga Suga" was also the best moment of the night.
Hip-hop artist Baby Bash, on the other hand, made the whole audience dance to his groove-inducing hits like "Cyclone," "What is It," and "Outta Control."
Perhaps the most-awaited artist of the night, JoJo received the loudest screams and cheers when she sang her hits "Leave (Get Out)," "Too Little Too Late," and "How to Touch a Girl." She also sang songs from her upcoming new album All I Want is Everything.
ADVERTISEMENT - CONTINUE READING BELOW
JoJo, who also performed in the Philippines last month in Justin Timberlake's concert, told the audience she's happy to be back in the Philippines. "I'm gonna move to Manila because I feel I'm home here," she told the audience.
Last two artists to perform were All-4-One and SWV. Although the audience already thinned out after JoJo's performance, All-4-One managed to deliver good performances. The four-member group sang their hit songs "(She's Got) Skillz," "As Beautiful as You," and "So Much in Love."
Couples swooned when All-4-One sang their hit love song "I Swear."
Last to perform was SWV, who also made couples grow closer by singing their hit song "Weak." They also sang "Right Here," "You're The One," and "Anything."
The concert ended at 2 a.m., Sunday.
HITCHES. Although most of the performances were polished, a few hitches in production gave the audience several frustrating moments. Microphones sometimes lost sound, or screeched a lot of feedback.
ADVERTISEMENT - CONTINUE READING BELOW
The concert's most frustrating moments were the long wait between sets. For each artist, the production team changed the instruments onstage, and it took them around 15 minutes. These dead moments could have been remedied by piped-in music, a video introducing the next artist, or even by the bantering of hosts onstage. Alas, there were none of these, and the audience's energy and attention were allowed to gradually fade.
Snags aside, the Then and Now Massive Music Festival was still a successful concert. We hope many more concerts like this, featuring many more local and foreign artists, will be produced in the country.