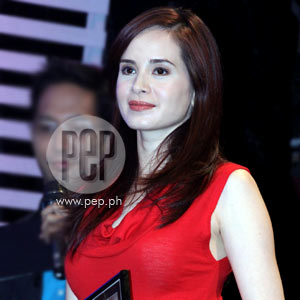 ---
Lucy Torres-Gomez has evolved from commercial model to houseold name and her celebrity status now shines all the more with her winning a seat in Congress.
But the road to becoming the Representative for Leyte's 4th district was a bumpy one for Lucy. First of all, she was not even running for the position. It was husband Richard Gomez who was vying for the seat in Ormoc. Then, due to legal issues brought up by their rivals concerning Richard's residency (click here to read related stories), she had to serve as a substitute candidate a week before the elections.
So on Showbiz Central aired yesterday, May 16, the couple spoke up regarding their victory and the rocky road leading to that sweet win.
How is everything now with them after the very tiring and stressful election period?
"I don't know with Richard kasi kabayo 'yan, hindi napapagod," joked Lucy. "Pero ako personally, I'm really exhausted emotionally and physically. But I am glad it's all over—all the drama of the elections—and we can just all get down to work."
ADVERTISEMENT - CONTINUE READING BELOW
For Richard, it was suspenseful as well. He related, "When we had to substitute Lucy and then our opponents kept on filing cases up to the time when she was about to be proclaimed. They filed a case to suspend proclamation of the winning candidates, mga ganoon. But eventually, they did not prosper. Iyon ang mga moments na nakaka-tense talaga."
DETRACTORS GALORE. With so many detractors slinging mud at her husband, what can Lucy say to those people?
"If I did not have my faith and didn't have God to lean on, e, matagal na akong nabaliw," laughed Lucy. "I was very supportive to Richard. Si Richard kasi is made of very tough stuff."
"Kahit anong klaseng paninira ang ginagawa nila sa amin during the campaign, e, alam naman ng tao ang buhay nating mga artista, e, di ba?" added Richard. "Alam nila ang istorya ng buhay mo at kung mayroon kang duming tinatago, e, alam naman nila, e."
ADVERTISEMENT - CONTINUE READING BELOW
There is news that those detractors are still cooking up ways to disqualify Lucy from her seat. What are the couple's plans to counter future cases?
"Sobrang dami na nilang na-file so hindi ka na magtataka na may darating pa," said Lucy. "The people have already spoken. What more proof do they need? We should mature enough to accept defeat. Hopefully we can move forward and be united to work for progress."
"I'll be gentleman enough to accept defeat," Richard added.
Lucy is now being touted as the most beautiful congresswoman ever elected. However, what can she say to people who admire her beauty but question her political competence?
"Well, they have the right to do that and I understand where they are coming from," Lucy said. "I never turn my back on a challenge and I am not afraid to learn and ask questions."
Richard for his part will support his wife in Congress in any way he can. "I'll be with Lucy and help her out with anything I can do until the time comes na kaya na niya mag-isa doon," he said. "I'll be very visible naman in our place."
ADVERTISEMENT - CONTINUE READING BELOW
With Congress as part of her resumé now, how would she balance her career in showbiz and her time in office?
"My career in TV, if I can call it a career, it's really light and always been light," answered Lucy. "Adjustments will be made."
What is their message to their supporters?
"I'd like to thank the people who gave their trust and confidence," Richard said.
Lucy continued, "I'm very thankful and grateful to the people of Ormoc during our campaign. They supported my husband overwhelmingly."