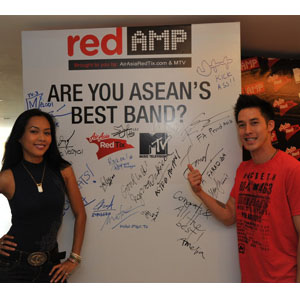 ---
"Total package" is what the judges of redAMP's search for Top ASEAN Band are looking for.
Rafizah Amran, head of ancillary income of Air Asia—the competition's major proponent—told PEP (Philippine Entertainment Portal) that the winner should also be able to show that "they can do something else" and that they can "surprise" the fans.
The top ten semi-finalists, which were named at the grand press conference held in Bali, Indonesia, were the groups that stood out among more than 2,500 entries.
Pancake 80 is the only Pinoy group that made the cut. Their music is greatly influenced by the '80s, and their entry "Time" sounds like new wave with a touch of alternative rock.

WILL PANCAKE SELL LIKE HOTCAKES? In a casual chat before the presscon, Amran commented, "In the Philippines, everyone practically knows how to sing."
She added that about "21% "of the total entries were submitted by Filipinos. "So many groups joined from your country, and also Malaysia and Indonesia."
The screening was a "huge collaborative effort" among musicians, singers, MTV Asia people, and show promoters.
The Air Asia boss related, "The final judging session itself, for them to pick from the top 20 to top 10, lasted 11 hours. So that's 11 hours worth of watching 20 videos again and again and again and again, then debating..."
Criteria didn't just underscore the musicality. She said that the vocals matter, but "this is ASEAN, we want to show the world what we have to offer, so, songwriting skills must meet certain standards."
Teamwork is the third requisite. "We look at the way the band [members] interact with each other...so it's not just being part of the band. You need a kind of commitment in order to be able to like music as well as to like your bandmates, and then, you could produce really good songs."
ADVERTISEMENT - CONTINUE READING BELOW
TOP-VOTED BANDS. Last week, June 23, the public voting began. At press time, our Pinoy bet is one of the "Top Voted Bands" going head to head with Malaysia's Bizharo, Thailand's Sixty-Nine, and Indonesia's Golden Dragon.
The online and text votes would eat up 70% of the final results. The rest, which is 30%, will reflect the choice of the jury—composed of Malaysia's prominent producer-engineer Roslan Aziz (chief judge), Malaysia's widely-respected session drummer Zahid Ahmad, singer Jason Voo, and arranger-composer for major Chinese recording artists Mac Chew.
Prizes at stake: Recording and distribution deal worth 50,000 ringgit (Php 700,000) and AirAsia e-gift vouchers worth 10,000 ringgit (Php 140,000).
"We will be signing them up, and we will manage them, and we will give them the right exposure," Amran promised.

The bands that will make it to the Top 3 will be given the chance to perform live at an exclusive redAMP concert hosted by AirAsiaRedTix.com.
To support Pancake 80, log on to www.AirAsiaRedTix.com (CLICK HERE), where one can vote once every 24 hours; or visit redAMP's Facebook (CLICK HERE), which can accept a vote from one account every 30 minutes; or text RA 06 and send to 09165955600.