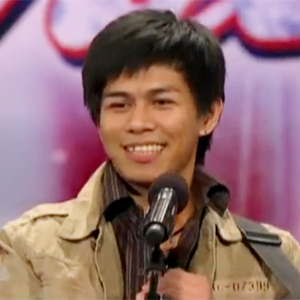 ---
Another Pinoy talent is making his own mark in the U.S., via the new season of America's Got Talent (AGT).
Mandaue-born and raised Luigi Seno, carrying a nylon acoustic guitar, walked across the AGT stage and performed an acoustic version of Maroon 5's "Sunday Morning" in front of a very appreciative live audience and judges Howie Mandel, Sharon Osbourne, and Piers Morgan.
All three judges liked his performance and had positive reviews for the 20-year-old part-time student and shipping company worker. Luigi got so excited with the warm reception of the audience that he jumped up and down on the spot where he performed while waiting for the comments of the judges.
Reality star Osbourne (MTV's The Osbournes) was first to give the encouraging remarks on Luigi, "Luigi, you have a really cool, relaxed style. It's fantastic!"
Deal or No Deal host Mandel was so impressed by Luigi's singing that he commented, "You are truly a great entertainer... If you have an album out now, I'd be listening to you in my car. I would be."
News editor-turned-reality talent show judge Piers Morgan on the other hand, not only praised Luigi's guitar-playing and singing, but also his charm, "You got this charm about you which I think is gonna go a long way."
The three judges all said "Yes" to Luigi and it's off to the "Vegas show" for him and a chance to win the US$1 million grand prize.
According to his website, Luigi migrated to Southern California, U.S.A., from Cebu, Philippines, in 2001 with his family "in search of our 'American Dream.'" He is the second in a brood of six and is currently a Music major in San Bernadino Valley College.
ADVERTISEMENT - CONTINUE READING BELOW
His mother Helen works as a music director and pianist for their church while his father Chito is a web/graphics designer and portrait artist.
After his performance and getting the nod of approval from the judges, teary-eyed Luigi went straight to his parents who were waiting for him together with show host Nick Cannon.
Nick asked Luigi why getting into America's Got Talent meant a lot to him. "It's for my family in the Philippines who I haven't seen in a while... It's been eight years," Luigi answered.
On his website, Luigi said he wishes to go back to the Philippines to see his grandmother, "What I really wish right now is to be able to visit my relatives in the Philippines (especially my grandma who is 87 years old), whom we have not seen since we got here nine years ago.
"My other grandma (my dad's mom) passed away in 2008 and not even my dad was able to attend the funeral. Really sad. Wish I had the power to do something about it."
After the show, judge Mandel was still raving about Luigi's performance, "It's a surprise to see this new shy kid and then he sang, and it was beautiful, and it was passionate and I wanted to hear more, and we're gonna hear more!"
Just recently, the Philippines' franchise of the hit reality show, Pilipinas Got Talent, crowned rock singer Jovit Baldivino as its first winner.
CLICK HERE to watch Luigi's performance.