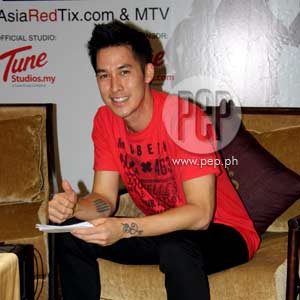 ---
When the ten semi-finalists of redAMP were presented last June 22 in Bali, Indonesia, MTV VJ Utt admitted that the Filipino indie band Pancake 80 left a good impression on him.
When asked to name the bands that he thought would make it far in the ASEAN-wide regional competition for best indie and garage bands, the Thai VJ revealed: "Just seeing it right now, I think three or four bands stood out for me. Definitely, the Philippines, the Thailand one, and the Indonesian."
PEP (Philippine Entertainment Portal) asked VJ Utt what he liked most about the Pinoy band Pancake 80, and he explained, "I thought the vocal quality was quite good. It stood out for me."
Pancake 80 is the only Pinoy indie band that was chosen among the 2,500 entries submitted to redAMP. The band's music is greatly influenced by the '80s, and for their audition video, they performed their original song titled "Time."
Is he familiar with other Filipino bands? "Chicosci... I think they're pretty awesome." Chicosci is a punk rock band fronted by Miggy Chavez.
VIBRANT MUSIC SCENE. He observed, "In Indonesia, Malaysia and the Philippines, the bands are very, very talented. These countries are very musically inclined."
He even quipped: "In the Philippines, once you're born, you know how to play an instrument!"
Working as a VJ for the past 12 years, Utt said he's had the chance to work with Filipinos through MTV. "I've worked with so many VJs from the Philippines, Donita Rose, KC [Montero]."
He lauded AirAsiaRedTix.com and MTV Asia for mounting a competition that highlights the vibrant music scene in Asian countries.
ADVERTISEMENT - CONTINUE READING BELOW
"It's interesting because you look at the Top 10 semifinalists and predominantly, there's Indonesia but you also have Thailand, you have the Philippines. I think it's always great when you mix it up and you see the talents in your neighboring countries. I think that's how you take it one step further and go international."
He later added: "It's interesting to find out that there's actually a local music scene happening in these different countries. I've been to Brunei two or three times and I didn't even know that they have a local music scene. There's also something about raw talent that makes it interesting."
LOG ON AND VOTE. redAMP is an ongoing contest searching for ASEAN's best (unsigned) band. The winning group will receive a recording and distribution deal worth 50,000 ringgit (Php 700,000), professional training from Malaysia's prominent producer-engineer Roslan Aziz, as well as AirAsia e-gift vouchers worth 10,000 ringgit (Php 140,000).
The bands that will make it to the Top 3 will be given the chance to perform live at an exclusive redAMP concert hosted by AirAsiaRedTix.com.
To support Pancake 80, log on to www.AirAsiaRedTix.com (CLICK HERE), where one can vote once every 24 hours; or visit redAMP's Facebook account (CLICK HERE), which can accept a vote from one account every 30 minutes; or text RA 06 and send to 09165955600. Voting ends on July 7, 2010.
(CLICK HERE to watch Utt's video where he explains why he likes Pancake 80)