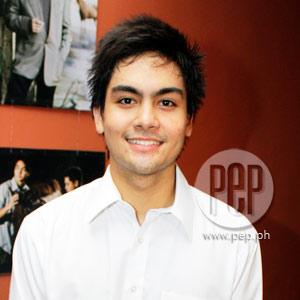 ---
MYX VJ Search finalist Marco Mañalac was flush with excitement when he met with the press right after his first public performance for Equus last July 8.
"I'm on a rush right now!" he exclaimed outside Onstage in Greenbelt 1, the venue of this Repertory Philippines production that will run until July 25.
Did he find it difficult to perform nude for about 15 minutes for the crucial scenes of the play?
"Hindi, okay lang. Ang acting ang pinakamahirap for me," he said with a smile. "Yung internalization ng character, yung getting into his mind [ang mas mahirap]."
Did he feel awkward performing the scene wherein he puts his naked body on top of his co-star Pheona Baranda?
"Walang ilang factor. Confident ng konti."
Equus is based on an actual case that happened in an English suburb wherein a teenager blinded six horses for unexplainable reasons. In the play, theatergoers will get to meet a disturbed boy named Alan Strang (alternately played by Marco and Red Concepcion, the older brother of actor Sam Concepcion). He is treated by a psychiatrist named Martin Dysart (Miguel Faustmann), who eventually becomes jealous of Alan for his strong passion in life.
This marks the first professional play of Marco, which is why he relied a lot on director Audie Gemora and co-actors in order to do well.
How was it like to be directed by theater veteran Audie?
"It was amazing. He was super patient and understanding kasi newcomer talaga ako," Marco said.
In 2007, Daniel Radcliffe of Harry Potter fame created buzz when he agreed to take on the role of Alan Strang for London's West End. Did Marco feel pressured by this?
ADVERTISEMENT - CONTINUE READING BELOW
"Nakinig rin ako sa audio recording ni Daniel, over and over again. Ang laki ng expectation talaga, lalo na since I'm new. I try not to think of it as me following after somebody but me trying to define the role in my own way. Yung personal touch ko."
This Tony award-winning play was first staged in the Philippines in 1976. Miguel Faustmann even played the role of Nugget (the lead horse in the play) when it was mounted 34 years ago. What advice did the veteran actor give to the newcomer?
"I told him to be faithful to the script," said Migie. "We have to respect the author [Peter Shaffer]. He wrote it so beautifully so I am a stickler for that."
During the preview night, some of Marco's fellow MYX VJ finalists took the time to watch his first public performance. The said contest will end by July 21. (CLICK HERE to read more about the MYX VJ Search 2010.)
Marco was also thankful for the support of his family. In fact, his parents also watched during the preview performance but he pointed out: "Very supportive ang mga parents ko. Pero sabi ng Mom ko na pag yung naked scene na, walk out na siya."
Marco was discovered years ago when he starred in a Trumpets Playshop presentation of Bugsy. He then became a commercial and ramp model and even became a host of Nickelodeon shows such as In the Can and Whacked.
He said that he is willing to star in TV shows and movies in the future. In fact, he dreams of portraying a superhero someday.
ADVERTISEMENT - CONTINUE READING BELOW