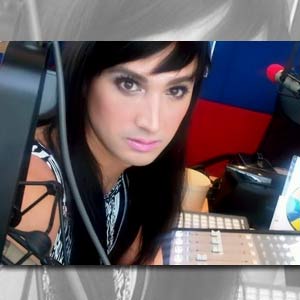 ---
KC Montero is one of the few Pinoy celebrities who's very active in Twitter. Each day, the TV and radio host uses the social networking site to connect to his friends and fans, as well as to promote his radio show, The KC Show on U92 and broadcasted online through ustream.tv.
What makes The KC Show interesting are the unique schemes that KC pulls off to rope in followers.
Aside from live musical guests—recent ones were Ely Buendia and La Diva—there are comedy skits, commentary, and also a "Phone a Celebrity" segment where KC calls a celebrity and broadcasts the conversation live.
But a new gimmick takes the cake: this involves a wig, a dress, and tons of makeup. Yes, the tall and bulky macho male celebrity is dressing up in drag.
This afternoon, July 12, The KC Show featured KC dressing up as a woman. Shown live on the Web was KC's transformation from a brute to a butterfly named "Cassandra Monteroid."
KC wore a wig from Angel Locsin, a dress from Sarah Meier, and makeup applied live by Bubbles Paraiso.
KC took on the drag challenge today because he lost a bet he made on July 5. On that date, he posted on Twitter: "Lets start a campaign for Justin Bieber to follow me. I will come to work in drag if he does."
Justin Bieber is a young international popstar popular for his songs "Baby" and "One Time." The 16-year old singer has millions of fans all over the world, composed mostly of pre-pubescent girls.
ADVERTISEMENT - CONTINUE READING BELOW
After KC posted his Twitter campaign, hundreds of Pinoy Twitter users immediately reposted it. Even his celebrity friends Denise Laurel, Maxene Magalona, and Angel Locsin promoted his campaign.
The next day, KC posted that the campaign was a success, and that Justin Bieber had indeed followed him on Twitter.
"For those of you who don't know yet. The campaign for the bieb to follow me worked. For that I will be in drag all next week," KC said.
This is why KC started Monday on his radio show in drag.
But who does KC look like the most? Some Twitter users say he looks like beauty queen Ruffa Gutierrez, while some say he looks like TV host Iya Villania.
Ruffa jokingly denied the comparison; Iya said she feels "flattered."
"LMAO!!!! OMG....this is definitely not Ruffa G! Since when did I have bangs???" Ruffa exclaimed on Twitter.
"Hahaa :) I'm flattered! *blushes*" was Iya's comment.