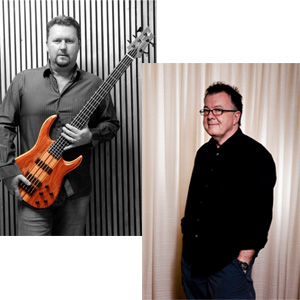 ---
Grammy Award-winning producers Eliot Kennedy and Brian Grant team up with Far West Entertainment, Asia's new global media company founded by former Electronic Arts executive Jon Niermann (host of Asia Uncut), to seek out the best female talents in Asia and launch them into an international music career.
Visiting the Philippines recently to lay the groundwork for Project Lotus, Kennedy explains their goal in simplest terms.
"In principle, it's a talent search across all Asia," he begins.
"What we're doing is a very simple idea but it's never been done before. We want to take five girls from five different Asian countries, 5 from Philippines, 5 from Japan, 5 from China, 5 from India, 5 from Korea. And what we're going to do is take all those 25 girls and put them in a place called the Lotus Academy in Hong Kong [where there's] a huge facility with dance studios, recording studios, vocal studios, etc."
Lotus Academy, according to Kennedy, will not only house these state-of-the-art facilities. Aside from him, there would be an award-winning choreographer, an amazing vocal coach, a nutritionist, a health advisor, gym instructor, "and all of that stuff" to aid in the training of the 25 girls. Their efforts would essentially put all the girls through the ringer.
Kennedy owns the distinction of being the original producer for the Spice Girls. This English songwriter and producer had also worked with Bryan Adams, S Club 7, Dannii Minogue, Boyzone, and Take That, among others. Among his several awards is a coveted Grammy for Aretha Franklin's "Never Gonna Break My Faith" and Mary J. Blige for the movie Bobby.
ADVERTISEMENT - CONTINUE READING BELOW
Kennedy's partner, Grammy award-winning video director, TV and film producer Brian Grant, explains that there is also another component to this talent search, that is, they are making a documentary of the whole process.
Project Lotus will then have a separate life of its own in front of the cameras even while the whole audition and elimination process are going on. For the TV component, viewers will be able to see two parts of the journey.
When both Grant and Kennedy come back to each of the five countries within a few weeks, Grant will be shooting what would be the first episode.
This will be the search proper in the five countries, intercut with scenes from the writing camp—which will involve some of the world's best songwriters, who will be gathered at Peter Gabriel's studio in the countryside outside London. These tunesmiths and wordsmiths will be in charge of putting together the materials that the newly formed pan-Asian girl group would be recording at the end of their training. All these are being laid down by Kennedy.
Auditions in the five cities involved will begin on August 15, 2010. Afterwards, Kennedy and Grant would narrow the numbers to five girls each from Japan, Korea, China, India and the Philippines. The 25 finalists will undergo intensive training at the Lotus Academy running from September 15 to October 30 this year.
The 25 girls will be formed in five groups of five, each from a different country. Learning songs and choreography, each group will then perform the piece in front of a chosen audience and a chosen celebrity at the end of one week. The following day, the judges will deliberate and eliminate one girl from each country. The remaining 20 girls will form four groups of five, and go through the whole process again, and so on.
ADVERTISEMENT - CONTINUE READING BELOW
The five girls left would then represent their respective countries, and would be part of this group that the producers would push outside the region.
The TV show they will produce will be eyed for broadcast across Asia and also the U.S. and Europe. Their album and touring schedule should also kick off in the first half of 2011. For more information, visit www.projectlotus.tv.