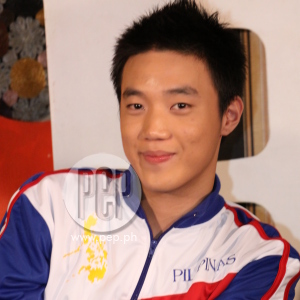 ---
Right now, Korean Ryan Bang can be considered the most successful housemate of ABS-CBN's Pinoy Big Brother: Teen Clash 2010, even though he only placed second. He is currently seen in two ABS-CBN shows: as a judge in Showtime, and as guest cast in Banana Split.
Now, the 18-year-old wannabe comedian has been given a new travel show in Studio 23. Titled 3ow P0whz!, the show documents Ryan's adventures as he discovers the sights and sounds of Manila.
PEP (Philippine Entertainment Portal) and other entertainment press were able to talk to Ryan yesterday, September 30, at the presscon for the new shows of Studio 23, held at 9501 Restaurant in ELJ Center, Quezon City.
Ryan said he does not feel any pressure in doing the show, even though he's a foreigner and his Tagalog is not very strong.
"Walang mahirap," he said in his broken Taglish. "I really enjoy it. I ride the bus, and jeepney. I like the bus, we go to Balintawak and shopping and visit other people. I think it was a very fun experience."
He said he's amazed at some of his experiences, like riding a non-aircon bus for the first time. "Bus driver drive very fast. I really really like it. In the bus, walang aircon, pero malamig," he said.
Ryan said he has been living in the Philippines for five years already, but he still hasn't toured its famous landmarks. That's why Ryan loves his new show 3ow P0whz! so much.
He also thinks the show can help him make people happy.
"Ah, I'm very happy. I'm very happy because... like, I've lived here in the Philippines for five years, and then Filipino, Philippines make me happy person. And I am so... to make them happy," he said.
The press asked Ryan why his Tagalog is not strong when he's been in the Philippines for five years already. His answer was funny.
ADVERTISEMENT - CONTINUE READING BELOW
"Kasi, I'm not really smart," Ryan said honestly. "Yeah, I try to learn speak Tagalog, but it's very traffic, my brain is not working well."
ENCHONG AND VHONG. The press was straightforward in asking Ryan if he's gay, because he sometimes acts like a girl to make people laugh.
"Ako? Hindi ako! Pero gusto ko... Hindi ako bading," denied Ryan.
The press then reminded Ryan that he previously said one of his showbiz crushes is Enchong Dee. Ryan clarified that he likes the young actor as a brother.
"Enchong Dee, sobrang mabait. Kuya Enchong Dee. I really like him as kuya," he said.
Ryan said he is just grateful to Enchong, who was the special guest when Ryan celebrated his birthday in the PBB house.
"When I was inside the house, he came to my birthday party, and he was so kind. Even if he's a really big star, he not treat me like lower kind," he said.
His real crush, he added, is young actress Maja Salvador, "because she is pretty."
Comedian Vhong Navarro, on the other hand, is his idol.
"I like Vhong Navarro because he's very funny. He's comedian, he make people very happy. I want to make people very happy. If people happy because of me, I'm very happy," Ryan said.