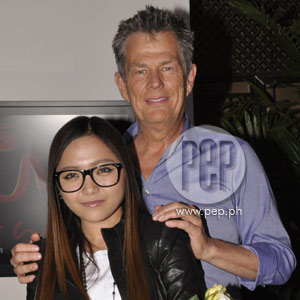 ---
Yesterday afternoon, October 21, Charice arrived in the Philippines with her ninong David Foster, the 15-time Grammy winner who also serves as her mentor. Later that day, both of them graced a press conference held at Resorts World Manila for their upcoming concert titled David Foster and Friends.
This Saturday,October 23, Charice will perform at the Araneta Coliseum with David, 9-time Grammy winner Natalie Cole, American Idol Season 2 winner Ruben Studdard. They will also be joined by The Canadian Tenors (composed of Clifton Murray, Fraser Walters, Remigio Pereira and Victor Micallef).
After this concert in Manila, they will perform in Thailand, Indonesia, and Singapore.
When asked about his plans for his godchild, David says that he will build up the Filipina singer to become "the first true Asian world superstar."
Charice reacted to this by saying, "Speechless ako. Thank you, David. I'm not gonna get tired of saying thank you. I just hope that you and Oprah [Winfrey] are not gonna get tired of helping me make my dreams come true.
"I hope my fans will also keep on standing beside me just like a pyramid...strong!"
David reiterated, "Every day, a Filipino comes up to me, holds my hand and tells me, 'Thank you for Charice.' I don't think they should be thanking me because Charice is theirs.
"The Filipino people is so grateful to me. They're just so happy that Charice's music is making a mark on the world."
WISHING FOR A GRAMMY. Is Charice looking forward to the Grammy Awards?
"Libre naman mangarap, di ba?" she said with a big smile. The singer-actress mentioned last May that her birthday wish is to be nominated in the Grammy Awards.
David assured her, "If we don't get them this year, we're gonna get them next year."
What does he think about her chances of making it to the Grammys?
ADVERTISEMENT - CONTINUE READING BELOW
"Charice is gonna win the Grammys," said David. "It may not happen this year, but she's gonna win.
"It's a benchmark but... The Beatles only won one Grammy, so you gotta put it in perspective."
ACTING ON GLEE. One of the biggest achievements of Charice was when she earned a recurring role in Glee Season 2as the Filipino foreign exchange student named Sunshine Corazon.
David revealed that he was on the set when Charice shot scenes for the pilot episode of Glee Season 2. In this particular episode, the Filipina singer performed "Telephone" and "Listen," both of which entered the Top 10 of iTunes. (CLICK HERE to read related article.)


How does he feel that Charice is expanding her horizons by acting in the popular American TV show?
"I believe every great singer can act," stressed David. "It makes a lot of sense because singing is a lot like acting, too. A singer goes onstage... Otherwise, a singer would go just like this [demonstrates someone looking down] but a singer goes like this [spreads his arms wide]. It's a natural extension for singing.
"I would have been surprised again if she couldn't act. True enough, she's a great actress."

When asked when she will reappear in Glee, Charice said, "Right now, hindi talaga ako puwedeng magsalita. Ang masasabi ko lang, just watch the season. Hindi ko pa alam kung kailan ang exact date...just watch for it."
David himself will be appearing on the TV show 90210, the spin-off of the '80s show Beverly Hills 90210.
"I'll be playing a record producer who has to tell somebody that they can't sing, which should be easy for me," he said with a smile.
COMPARISON WITH WHITNEY HOUSTON AND CELINE DION. PEP (Philippine Entertainment Portal) asked David how Charice has changed since he met her.
ADVERTISEMENT - CONTINUE READING BELOW
He pointed out: "She truly was a child when I met her. And she walked in the other day, and she strutted onstage like Whitney Houston.
"She had an air about her of a star. She has always been confident of her singing, but now her personality is getting confident.
"She's like one of my children. One day you see them as children and then you turn around and she's not a little girl anymore, she's a woman. And that's what is happening to her exactly.
"The voice gets better every day. She was great when I met her at age 14, so you can imagine how I feel about her voice now. I call her a laser beam."

Newspaper editor Ricky Lo also asked Charice how she feels about being described as the "new Celine Dion."
The young singer said, "Being compared to Celine Dion is such a big responsibility for me. Everywhere I go, whenever I'm performing, we have to show them that I really deserve to be compared to them.
"It's really hard. But at the same time, it's really a big compliment for me."
JUSTIN BIEBER. Charice met Justin Bieber when they both appeared in Oprah. Members of the press curiously asked if she still has communication with the popular singer from Canada.
"Nag-meet kaming dalawa, pero hindi naman super friendship talaga. Unlike yung friendship namin ni David Archuleta, kami, talagang nag-hang out na kami. Yung kay Justin Bieber, meet lang talaga," she said.


PART OF THE FAMILY. In real life, David is a father to five daughters but he has been vocal in saying that he considers Charice to be his sixth daughter.
Charice faced David and asked him, "Remember that time two years ago when a group of people asked you about me and you told them, 'she's like my sixth daughter.' For me, that was the most special moment."
ADVERTISEMENT - CONTINUE READING BELOW
David praised her family members for providing her with a good support system even though she is growing up without her father by her side.
"Young women need some kind of a male role model. Charice has a great mother, Raquel, and a great brother, Carl. But in the male department, she's coming up a bit short.
"There are so many people in her life like me to nurture her and guide her. She's getting advice from Ruben [Studdard], Peter [Cetera], Natalie [Cole]...
"She's getting a first-class Harvard education right in front of your eyes. She's getting all the parental guidance she needs."
What was it about Charice that caught his attention?
"What it is about Charice, it would be what I would say about everyone in this panel... I'm attracted to great singers. If you look up here, Ruben, Peter, Natalie, Charice, and three of the four tenors [jokingly referring to the Canadian tenors], I am attracted to great singers.
"I only know how to work with great singers. That's what I love to do. They find me. And Charice is in that category."
He then revealed that Natalie Cole has been giving Charice great advice about taking care of her voice.
David observes, "Charice is growing up fast. She's becoming a young woman but she has a lot of great help around her. That's something that I wouldn't be able to help her with coz I don't know how to take care of her voice. But Natalie does."
Will he be able to tour Manila and visit Charice's home in Tagaytay?
"Yes, I'm hoping Charice will take us to see the real Manila. We have three days here and wherever she wants to take me, that's where I'm going."
While David is in town, Charice hopes to let him taste adobo. The young girl giggled at the idea of letting him taste balut (fertilized duck egg), which Filipinos consider a delicacy.
ADVERTISEMENT - CONTINUE READING BELOW