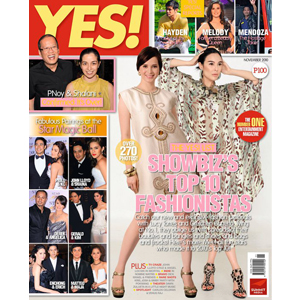 ---
Showbiz personalities today are no longer just actors and actresses; they are also style icons!
This November, YES! magazine enlists the help of some of the biggest names in the fashion industry to put together its Top 10 Fashionistas in Showbiz.
Leading the YES!jury is Pauline Juan,editor-in-chief of the country's number one fashion magazine, Preview, and its online counterpart StyleBible.ph.
Also in the jury are StyleBible.ph managing editor Isha Andaya, presidential stylist and Preview contributing editor Liz Uy, stylist and Philippine Daily Inquirer contributing fashion editor Jenni Epperson, and influential blogger and Philippine Star columnist Cecile Zamora Van Straten.
Rounding up the YES!jury are Michael Salientes, who YES!calls "arguably the country's first stylist of note," and Marlon Rivera, designer and creative consultant of GMA-7's Party Pilipinas, creative director of the clothing label Folded & Hung, and president of advertising firm Publicis Manila.
Tied at the number one spot are Lucy Torres-Gomez and Gretchen Barretto. YES!books each of the two stars in separate, new and exclusive fashion pictorials where they don their own clothes, choose their own makeup artist and stylist, and generally own their own fashion scene.
Being generous, they also oblige YES!with page spreads of their baubles, bangles, shoes, bags, frocks, and more!
Of Lucy Torres's style, Pauline Juan and Michael Salientes agree that the host-endorser and now representative of Leyte's fourth district is "always dressed appropriately." Notes Salientes: "She knows her style. She doesn't try to do something that doesn't fit her. She's a smart dresser."
Gretchen Barretto was also part of this year's Preview Best-Dressed List, where she confessed to not really taking fashion so seriously. But as Isha Andaya says approvingly, "Gretchen has a lot of beautiful things...she really seems to like fashion."
Pauline Juan also detects a sense of playfulness in Gretchen's style, and says, "Her style of dressing now is more for self-expression, because she has fun displaying, showing off, mixing and matching what she has."
ADVERTISEMENT - CONTINUE READING BELOW
Aside from featuring the list of The Top 10 Fashionistas in Showbiz, the November issue of YES! also shows you what it calls the "fabulous pairings" seen at the recent Star Magic Ball.
In no less than nine full-color, glossy pages, A-list stars Piolo Pascual and KC, John Lloyd and Shaina, Derek and Angelica, Gerald and Kim, Enchong and Erich, Matteo and Maja and so many more of Star Magic's talents are shown in their glamorous best, with their date of choice—the men in signature suits, the ladies in designer gowns, and all shimmering and beautiful.
The YES! November issue also confirms reports of the breakup of President Noynoy Aquino and Councilor Shalani Soledad. Putting together hard-to-obtain inside information on the two very private public officials, the magazine hones in on their formal breakup and the circumstances surrounding it.
In addition, YES! puts the spotlight on beauty queen Venus Raj and her background and on RH Bill activist Carlos Celdran and the story around his commitment to the bill and his recent arrest in a cathedral.
On top of all that, the magazine does three special reports:
One, on Hayden Kho entitled "Out of the Depths," which is the first in-depth interview that the controversial ex-doctor has given since the scandal that engulfed him two years ago. Pictures of Hayden taken in Paris, France, for the promotion of his newest endeavor, the Hayden line of scents, are also used, along with pictures of Hayden with his once-again lady love, Dr. Vicki Belo.
Two, on former Police Senior Inspector Mendoza, whose dramatic and tragic move to hold hostage old and young Hong Kong tourists, will forever have his name remembered in pain and ignominy. The YES! special report, entitled "The Hostage-Taker," delves into Mendoza's background, the hours leading to his hostage-taking up to his killing, and excerpts from the official report of the government investigating body.
ADVERTISEMENT - CONTINUE READING BELOW
And three, on Melody Gersbach, the Philippines' Miss International bet (she made it to the Top 15) who was killed in a horrific and senseless road accident that left her family and her beauty-queen friends all devastated. Melody, who people said sometimes looked like Dawn Zulueta and sometimes like Donna Cruz, died at 23. The article is entitled "Forever A Beauty Queen."
All that for P100!
And when you get back to the cover story, find out who else made it to The YES! List of theTop 10 Fashionistas. See more than 270 photographs of the chosen 11 stars (the top spot being a tie) in their chosen wardrobe during various occasions.
Grab your copy of the November issue of YES! Available in newsstands, bookstores, and supermarkets nationwide. And after that, subscribe so you can be the first to read YES! every month!
Become a friend of YES! magazine on Facebook via Facebook.com/yesmagazine.ph. A digital edition of YES!is also available for international subscribers. Visit PEP.ph for more details.
YES! Magazine is an affiliate of www.pep.ph.