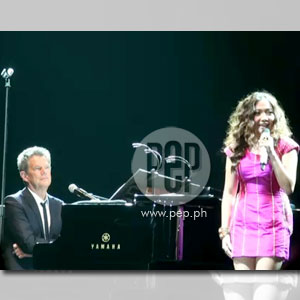 ---
The world is at her feet and Charice Pempengco lives in the hearts of her kababayans.
After Sunshine Corazon's Glee debut that brought her accolades even beyond Hollywood, Charice made Filipinos proud once more last Saturday, October 23.
During the concert Hitman, the international singing sensation who calls David Foster her mentor, became the scene stealer among the latter's entourage of big-league performers—American singers Natalie Cole and Peter Cetera, with America Idol Season 2 champion Rubben Studdard, and the up-and-coming vocal quartet Canadian Tenors.
When the lights dimmed 30 minutes past 8 p.m., the 10,000-strong crowd that packed the Araneta Coliseum held its breath in anticipation.
David Foster opened the show with "The Love Theme from St. Elmo's Fire (For Just A Moment)" on the grand piano, with a five-piece accompaniment.
Throughout the almost three-hour concert, Foster never hid his amazement at the Filpino's innate musical talent. "I love this country! There's music everywhere you go!" he exclaimed, before expressing hopes of coming back next year for a possible Love Month gig.
SING-ALONG GALLERY. Reminiscent of the operatic pop vocal group Il Divo, the Canadian Tenors set off a string of well-applauded numbers via their soul-stirring, perfectly-blended cover of"The Prayer."
Natalie Cole displayed her versatility by rendering ballad pieces in jazz. Natalie Cole kicked off with "Fever," then shifted to mellow tunes with her '80's hit, "Miss you Like Crazy," before wrapping it up with a duet-thru-video with her most "Unforgettable" dad Nat King Cole.
It was at this point that Foster got his first taste of the Filipino yen to sing-along. He said he had never seen a whole gallery of people singing along with a performer except here in Manila.
"It's amazing," said the prolific songwriter responsible for a wide array of hit songs in the last three decades.
ADVERTISEMENT - CONTINUE READING BELOW
Rubben Studdard serenaded the audience with melodious pop rhythms, like "After the Love has Gone" and "I Swear."
Foster prodded Studdard to reveal his unique gift: compose and sing a new song in an instant.
Two volunteers from opposite sides of the VIP section, who both go by the nickname "George" (to Foster's amusement), tested Studdard's songsmith skills. The first Georgina provided "so many years," while her namesake offered "I'll be there for you, forever."
With Foster's piano setting the tone, the AI alumnus bedazzled the audience with fresh tunes carrying those lines, as if he had been singing them long ago.
PINOYS' MUSICALITY. Foster made good his promise to pick potential singers from the crowd who could keep him impressed for 30 seconds with their singing.
A lady named Maria and a trio, who rendered Charice's "Pyramid" in the fashion of Destiny's Child, gave him a resounding preview of the Pinoy's musicality.
Foster then ran into Randy Santiago, who claimed he was just on his way to the restroom. With the crowd cheering him on, Randy gave in and sang "Wild Flower," betraying how he adores the music of this "Hitman."
When Foster went down again, people pointed to Pilita Corrales, whose "Dahil Sa Iyo" cover showcased why she became Asia's Queen of Song.
For the last showcase, Foster recognized another Philippine pride, Arnel Pineda, who was enjoying the show from the sidelines in his white T-shirt and jeans get-up, until Foster literally dragged him onto the stage.
Arnel obliged with Chicago's "Hard Habit to Break," to the delight of his Filipino fans. As he prepared to hum the last few notes of the song, no less than Peter Cetera appeared seemingly from nowhere to tease Arnel for stealing the spotlight from him.
Cetera brought the crowd down memory line with his yesteryears' hits, "Hard to Say I'm Sorry," "You're the Inspiration," and "Glory of Love," all of which are products of his collaboration with Foster.
ADVERTISEMENT - CONTINUE READING BELOW
SAVING THE BEST FOR LAST. All sections, from the VIP to the lower and upper boxes and all the way up to the general admissions area, reserved their loudest cheers for the Philippine's "small but terrible" contribution to the world's musical stage.
Donning a shimmering hot-pink dress, Charice Pempengco, a.k.a. Oprah's girl, rendered her Celine Dion and Whitney Houston all-time favorites with ease and finesse.
Her voice soared to hit jaw-dropping high pitches when needed, then effortlessly turned soft when the tune called for it. There was no screeching, which most "birit" critics like to carp about.
When Charice belted out the high notes of "All by Myself," the audience was completely lured into her zone and applauded her with a standing ovation—a no- mean feat especially for the often-blasé Pinoy audience.
Foster reminded Charice how she could be in the league of Celine Dion, Madonna, Toni Braxton, and the other ladies whom the award-winning producer has worked with.
"Now, I want you to remember something, please. You know that I've worked with Celine, Whitney, and Madonna, and Toni Braxton, Barbra Streisand...But you know, this girl, right here...This girl is right there in every one of them," he said.
The night was capped with an encore featuring Michael Jackson's "Earth Song," with the rest of the hitmakers joining Charice and Foster onstage.
David Foster's Hitman will surely go down music history as one of Manila's most memorable concerts in recent years.