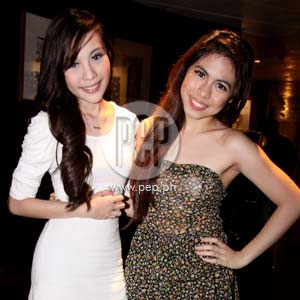 ---
It started for the Villongco sisters, Ericka, 17, and Krissy, 16, as it does for most Filipino kids. The little ones were regularly cajoled into entertaining their tito and tita, lolo and lola, and cousins and family friends whenever the family gathered to celebrate special occasions.
But with many of their relatives residing abroad, Ericka and Krissy did one better: they used technology to make sure even those relatives didn't miss their performances.
And what was intended to be just a YouTube channel for their relatives paved the way for these two musically gifted sisters to be discovered by no less than international pop singing sensation Justin Bieber!
Fast forward to today: Paramount Pictures has emailed Krissy and Ericka's manager, Erickson Raymundo, to get permission to use the sisters' version of "Baby" for Justin's upcoming 3D movie.
The movie, which is said to be about Justin's 16-year-old life, is scheduled for screening on Valentine's Day next year.
To be honest about it, Krissy clarified that the Paramount Pictures' request did not guarantee that the whole song, as she and Ericka interpreted it, would be used.
"Actually it's just gonna be a short split of our rendition of it. Even if it's just like five seconds, we are really happy for Justin Bieber to see it," Krissy told PEP (Philippine Entertainment Portal) last October 27.
LITLLE BIG STAR ALUMNA. The younger of the two siblings, Krissy revealed that six years ago she was an ABS-CBN alumnus of the now-defunct singing contest, Little Big Star.
Her batchmates included international singing sensation Charice Pempengco and multi-talented singer and thespian Sam Concepcion.
Krissy and Charice were both wild-card contenders in Little Big Star. Sam grabbed the grand spot; Charice finished as the runner-up.
Today, Kriss says she can't help but be proud of Charice and her success in the international music scene. "She has an amazing voice. I really idolize her kasi look at where she is now. She has come a long way."
ADVERTISEMENT - CONTINUE READING BELOW
SELF-TITLED ALBUM. The sisters, who are only ten months apart in age, released their self-titled album last month.
Krissy composed two of the songs included the album. According to her, she wrote "Hope for Humanity," a song with the environment as its theme, even before typhoon Ondoy hit the country September in 2009 and left untold damage to life and property.
"I already noticed the weird change in our climate. Pabago-bago lagi, even before Ondoy. I knew something was wrong. It gave me the inspiration to write that song," Krissy said in the sisters' interview with PEP during their album's press launch, held on the 14th floor of the ELJ Building, ABS-CBN Compound, Quezon City.
Another original composition in the album is "Surf's Up," which Krissy explained is about a student longing for summer vacation.
In effect, the student was her. "Last days of classes nun, and all I wanted then is summer na!" Krissy recalled.
Their carrier single "Up Up Down Down," plus another original song, "He'd Look My Way," were composed by crooner Richard Poon.
These two pop-acoustic sisters are strongly influenced by international country singer Taylor Swift.
Their self-titled album, Krissy & Ericka, is under MCA Music Inc., and is available in all major record bars nationwide.
Aside from their recent success in the music scene, sisters Krissy and Ericka are also Red Cross and World Vision ambassadors.