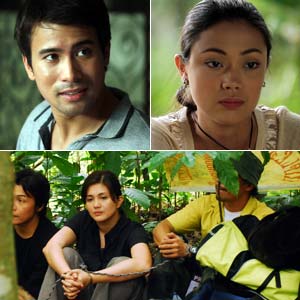 ---
Seven unpredictable stories from Luzon, Visayas, and Mindanao will be presented in an annual event that aims to showcase out-of-the-box storytelling.
For the 6th edition of the Cinema One Originals film fest, these films will be screened from November 10-16 at the Shangri-La Mall in Mandaluyong City. (CLICK HERE to view the screening schedule)
The finalists chosen from 100 submitted entries are: the Cebuano film Ang Damgo ni Eleuteria Kirchbaum by Remton Siega Zuasola; the social satire Astro Mayabang by JP Laxamana; the melodrama Third World Happy by EJ Salcedo; the horror-drama Dagim by Joaquin Valdes...
The Western-style action film Ishmael by Richard Somes; the true-to-life story of a Tausug boy in Tsardyer by Sigfreid Barros-Sanchez; and the family drama Layang Bilanggo by Michael Angelo Dagnalan.
This year's festival will also pay tribute to two filmmakers who are considered pillars in Philippine cinema: Celso Ad. Castillo and Lav Diaz.
Last year's recipient of the Cinema One Original Tribute award was director Danny Zialcita.
The awards night of Cinema One Originals will take place on November 14 at the Dolphy Theater, ABS-CBN compound, in Quezon City.
According to Cinema One Originals director for programming Ronald Arguelles, the next batch will feature ten finalists that will be given a grant of P1 million each.
Aspiring filmmakers have until January 14, 2011 to submit their screenplays. By March 2011, the finalists for the 7th edition of the Cinema One Originals filmfest will be revealed to the public.
AVENUE FOR GROWTH. During the October 26 press conference of Cinema One held at the ABS-CBN compound, many of the mainstream stars appearing in the film fest admitted that being part of these independently produced films give them an avenue to express themselves artistically.
ADVERTISEMENT - CONTINUE READING BELOW
Mark Gil pointed out exactly what this all means for artists: "Indie filmmaking brings a different level of freedom that artists like us hunger for. You give your heart and soul to your roles."
The veteran actor revealed that he and Ronnie Lazaro wrote most of the dialogue used in the indie film Ishmael. Mark is cast as a cult leader who sexually molests his own daughter Agnes (portrayed by Ria Garcia).
For his part, Ronnie did some action sequences for his roles as Ishmael, an ex-convict who resorts to murder in order to protect Agnes.
He told PEP (Philippine Entertainment Portal) in an interview, "I kill people like flies. Ishmael's hands were broken so he tied two bolos to his hands to serve as weapons. Tatlong balde ng dugo ang nagamit sa pelikulang ito!"
Sam Milby also considers working on indie films a way of honing his craft.
He also said it for all of them: "Through indie films, you get to act out of the box. It's important to do indie films to help you grow as an actor."
The matinee idol said of his role as a Fil-Am painter in Third World Happy: "My character is a lost soul who is a truly gifted artist. Imagine he lost his parents at the time he got his biggest accomplishment.
"That gives him a painful irony. I'd like to show onscreen how I could fill that void Wesley has."
The very talented Dimples Romana, for her part, vividly described the hardships that she and fellow cast members experienced while shooting Tsardyer in a forest located in Boso Boso, near Bulacan.
ADVERTISEMENT - CONTINUE READING BELOW
"Pati pantal ko authentic rin kasi nakatali kaming tatlo. Pag umiihi kami, malong na lang [ang pantakip].
"Ayoko nga masyado pag-usapan ang rape scene na ginawa namin kasi medyo touchy ang eksena."
Dimples's character is named Leslie and is a TV reporter kidnapped by the Abu Sayyaf, along with two cameramen, portrayed by Mon Confiado and Bombi Plata.
She befriends the 10-year-old boy Shihab, portrayed by Martin delos Santos, who is tasked to charge the mobile phones used by the Abu Sayyaf to negotiate with the government while holding the media people they kidnapped.
Dimples praised Martin for being very keen about instructions and for being willing to run repeatedly across the forest without slippers for his role.
Tsardyer is loosely based on the kidnapping incident of Ces Drilon and two ABS-CBN cameramen in June 2008.
According to director Sigfreid Barros Sanchez, Ces knows about this film. He said the ABS-CBN senior correspondent even gave him contact details of the generals based in Sulu.
When Direk Sigfreid went to Sulu, in the area where the journalists were kidnapped, he recalled, "Kaharap na namin ang Abu Sayyaf pero hindi namin alam! Hindi nila kami ginalaw kasi Ramadan noon."
John "Sweet" Lapus took the time to attend the presscon to show support for the indie film Astro Mayabang, where he is cast as Mama Suk.
When asked why he agreed to accept this project despite its low budget, the Showbiz Central host explained, "Gusto ko ang Cinema One para maiba naman. Ang fresh ng ideas at ang bago ng concept."
ADVERTISEMENT - CONTINUE READING BELOW
He then quipped, "Gusto ko rin makapagtrabaho with new directors para pag sumikat sila, may utang na loob sila sa akin!"
Most of the dialogue in Astro Mayabang is in Kapampangan, which is why Direk Jason Paul conducted auditions in Metro Manila and Pampanga just to look for the lead character.
He initially had doubts about casting Arron Villaflor because of his soft-spoken and gentle disposition, but the young star proved he was up to the challenge of portraying a braggart.
Arron also had no qualms about shooting a scene wherein he wears nothing but his underwear.
SEVEN FILMS IN COMPETITION. The films competing in the 6th edition of Cinema One Originals filmfest are as follows:
Ang Damgo ni Eleuteria Kirchbaum by Remton Siega Zuasola is a novelty comedy about an ambitious provincial lass nicknamed Terya.
The film's title, which is in Cebuano, means "The Dreams of Eleuteria Kirchbaum."
Shot in Olango island near Cebu, the film revolves around a girl who becomes a mail-order bride to raise her family from poverty.
What's interesting about the film is that it was shot in one whole take that lasted one hour and thirty minutes.
Third World Happy of writer-director EJ Salcedo is a melodrama about a "balikbayan" artist (Sam Milby) who has not moved on from the tragic death of both his parents.
His perspective in life changes when he comes home to attend a funeral and reunites with his friends and girlfriend (Jodi Sta. Maria).

Astro Mayabang of director Jason Paul Laxamana is a social satire about a financially, socially, intellectually, and sexually frustrated boy (Arron Villaflor).
ADVERTISEMENT - CONTINUE READING BELOW
He likes to boast about nationalism and Pinoy pride, but ends up humiliated because of his misguided and aggressive ways.
Arron's onscreen partner is Megan Young. Marco Morales is cast as Arron's rival, while former Pinoy Big Brother Double Up housemate Hermes Bautista makes his big screen debut through this film.
Dagim is about two farm brothers whose search for their lost father leads them to a company of strange mountain inhabitants.
According to Direk Joaquin Valdes (who co-wrote this with J. Eliseo Sandico), the film's title is the Tagalog word for a nimbus cloud.
He says his film offers an alternate world where the tribe, led by Marc Abaya's character, has its own language and rituals.
The brothers are portrayed by newbie actors Martin del Rosario and Samuel Quintana.
Ishmael by Richard Somes is about an ex-convict (Ronnie Lazaro) who is ostracized by his neighborhood.
Little does he know that this neighborhood he once knew is set to reawaken his dark past.
Direk Richard helmed the entry Yanggaw, which won six trophies in the 2008 Cinema One Originals film fest.
Tsardyer by writer-director Sigfreid Barros-Sanchez is based on a true-to-life story of a Tausug boy who is torn between his loyalty to his Tausug brothers and his concern for the TV journalist (Dimples Romana).
When Shihab (Martin delos Reyes) hears what the abductors plan to do to their prisoners, he races not only to save them but to save war from erupting once again in the jungles of Jolo, Sulu.
ADVERTISEMENT - CONTINUE READING BELOW
Layang Bilanggo is a family drama about a fugitive on the run (Pen Medina) who yearns for the love of a daughter he abandoned several years ago.
The convicted assassin disguises himself in an attempt to become close to his daughter (Miriam Quiambao).
This film also stars Jaime Fabregas, Will Devaughn and Neil Ryan Sese.
To date, Cinema One has produced 37 entries through its annual project.
Entries such as Huling Balyan ng Buhi, Rome & Juliet, Confessional, Tambolista, and Imburnal have been honored in film festivals worldwide.
These films are produced and owned by Cinema One cable channel and Creative Programs Inc, a subsidiary of ABS-CBN Broadcasting Corporation.