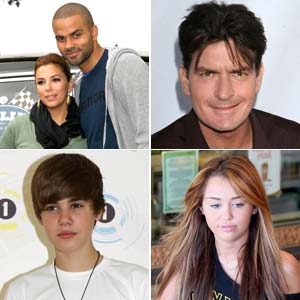 ---
JUSTIN BIEBER was the big winner at the American Music Awards (AMA) last night (November 21), taking home four accolades including Favorite Pop/Rock Male Artist, Favorite Album, and Breakthrough Artist of the Year during the ceremony at the Nokia Theatre in Los Angeles.
Accepting the Artist of the Year honor, the 16-year-old star thanked his mentor Usher and invited the "OMG" singer to join him on stage.
Bieber said: "I really was embraced by a man named Usher Raymond. It would be only right if I invited him up here to share it with me."
Usher picked up two gongs himself, Favorite Soul/R&B Male Artist and Favorite Soul/R&B Album, while rapper Eminem walked away with statuettes for Favorite Rap/Hip-Hop Male Artist and Favorite Rap/Hip-Hop Album.
Other winners at the 38th annual ceremony included country stars Taylor Swift, Carrie Underwood, and Brad Paisley; British rock band Muse, R&B singer Rihanna and Colombian pop star Shakira.
Michael Buble was heard shouting "I love winning things'' when he picked up the Favorite Adult Contemporary Artist award.
Rihanna, Katy Perry, Kid Rock and Bon Jovi, all performed at the ceremony and boy bands New Kids on the Block (NKOTB) and Backstreet Boys joined up for their first collaborative live stage effort before they kick off a joint American tour next year.
Pink, who announced last week she is pregnant with her first child, did not allow her pregnancy to slow her down, putting on an energetic dance routine to perform new song "Raise Your Glass."
ADVERTISEMENT - CONTINUE READING BELOW
Following is the American Music Awards (AMAs) 2010 full list of winners:
Favorite Soul/R&B Album: Usher, Raymond v. Raymond
Favorite Pop Rock Band/Duo/Group: The Black Eyed Peas
Favorite Country Female Artist: Taylor Swift
Favorite Latin Music Artist: Shakira
Favorite Soul/R&B Female Artist: Rihanna
Favorite Country Male Artist: Brad Paisley
Favorite Breakthrough Artist: Justin Bieber
Favorite Pop/Rock Male Artist: Justin Bieber
Favorite Country Band/Duo/Group: Lady Antebellum
Favorite Alternative Rock Music Artist: Muse
Favorite Adult Contemporary Music Artist: Michael Buble
Favorite Soul/R&B Male Artist: Usher
Favorite Artist of the Year: Justin Bieber
Favorite Country Album: Carrie Underwood, Play On
Favorite Rap/Hip-Hop Male Artist: Eminem
Favorite Pop/Rock Album: Justin Bieber, My World 2.0
Favorite Pop/Rock Female Artist: Lady Gaga
Favorite Contemporary Inspirational Artist: MercyMe
Favorite Rap/Hip-Hop Album: Eminem, Recovery
Favorite Soundtrack Album: Glee: The Music, Volume 3 Showstoppers
TONY PARKER also sent British model SOPHIA EGELER, 19, a barrage of messages, including a semi-naked photo of himself, in which he begged to meet up with her.
Sophia told The Sun newspaper: "From the minute he met me he was trying it on. I had no idea he was EVA LONGORIA's husband. He would not take no for an answer and was telling me how much he liked me."
Devastated Eva, 35, filed for divorce last week citing "irreconcilable differences" amid rumors she found a series of texts to other women on the NBA star's phone which reportedly included Erin Barry, the wife of his former teammate Brent Barry.
ADVERTISEMENT - CONTINUE READING BELOW
Tony met Sophia at an Ultimate Fighting show in London and afterwards persuaded her to join him at London nightspot Whisky Mist with Arsenal soccer player Bacary Sagna.
She revealed: "I decided at 1 A.M. I wanted to leave but Parker followed me into the street. He begged me to come back to a house he claimed was his. I said no."
After getting her number from a friend, Tony, 28, began sending her text messages including a semi-naked photo of himself and another one saying he was coming to Brighton to see her. The following day, he sent her a text saying he had arrived in the seaside town.
Sophia, who didn't get the text because she was out with pals, said the messages stopped last week when news of his impending divorce to Eva broke.
After filing legal separation papers last Wednesday (November 17), Eva wrote on Twitter: "It is with great sadness that after seven years together, Tony and I have decided to divorce. We love each other deeply and pray for each other's happiness."
Tony filed his own divorce papers in Bexar County, Texas, on Friday (November 11).
X-Rated actress CHRISTINA WALSH—who uses the name Capri Anderson—has spoken for the first time about her ordeal with Two And A Half Men star CHARLIE SHEEN.
Walsh claimed that Sheen went on a drug-and-drink binge last month, thrashed a room at the Plaza Hotel in New York, and at one point, the actor allegedly put his hands around her throat.
ADVERTISEMENT - CONTINUE READING BELOW
Christina, who was hired as an escort by Charlie, told TV Network ABC's Nightline: "He was, from the beginning of the night, very loud and he had no hesitations when it came to using derogatory language or cuss words.
"Towards the latter half of the night, it got really bad. He started yelling racial slurs.
"But it wasn't until he put his hands around my neck that I really thought to myself, 'You have gotten yourself in a bad, bad situation.'
"I felt like he could have killed me."
On the night of October 26, Charlie reportedly flew into a rage, accused Christina, 22, of stealing his wallet, and then trashed his hotel room, causing a reported $7,000 of damage.
Christina said she locked herself in the bathroom and called hotel security. The 45-year-old star was reportedly found "drunk and naked" and voluntarily taken to hospital.
Earlier that night, Christina and Charlie were seen dining in a restaurant with the actor's ex-wife, Denise Richards. He was reported to have been drinking wine, vodka and taking cocaine.
Christina added: "It's not right to hurt people. It's not right to scare people. It's not right to carry on with such disregard for the people around you.
"I'm not going to stand down and be completely walked over, mistreated. My whole life has been changed."
While no criminal charges have been brought against Charlie, Christina has filed a lawsuit against him. He has described the incident as "just one bad night."
Singer-actress MILEY CYRUS, who turns 18 on Tuesday (November 23), decided to have an early birthday party last night (November 21) following the American Music Awards (AMAs) where she and mom Tish Cyrus competed on the dancefloor.
ADVERTISEMENT - CONTINUE READING BELOW
Before the bash, Miley said: "I'm going out dancing later. We rented out a space so all my friends can come. Me and my mom actually have choreography for the night later. Everyone loves it when we dance in unison."
Miley says she and Tish, who is divorcing Miley's dad Billy Ray Cyrus, often practice their dance moves on a computer game at home.
She said: "There's one move where you do like, the fist pump. You Jersey Shore it for a second! We got a bunch of moves going on. Everyone goes wild when me and my mom have choreography, so it's going to be good.
"My mom, she beats me at that game! She had 600,000 points yesterday, I had 300,000. She is such a good dancer—she really gets it."
Miley has a host of other celebrations planned for her birthday and has revealed how she would like to celebrate her special day.
She told Access Hollywood: "I have a birthday month — I do the whole month of November. Thanksgiving, cake—it's all about me on Thanksgiving!"