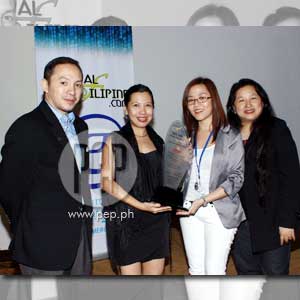 ---
Twenty-seven of the most visited websites in the country were recognized at the 4th Web Awards held yesterday, November 24, at the Bahia Room of Hotel Intercontinental Manila.
Janette Toral, founder of DigitalFilipino.com, which hands out the Web Awards, said this year's winners were based on ranking and reach, determined with the help of Bernardo J.B. Mitra Sr. of the Search Profile Index.
DigitalFilipino.com, according to its website, started in 1999 to promote the book "DigitalFilipino: An E-Commerce Guide for the eFilipino." It has since evolved into an e-commerce research site tracking developments in local and global information technology.
Search Profile Index, on the other hand, "helps companies assess their current or planned website versus competition including online marketing and sales strategies."
Initially, there were 50 categories, which were later narrowed down to 27, where the "most visited" websites were chosen.
Emerging No. 1 in the entertainment category is PEP, or the Philippine Entertainment Portal.
The trophy was received by the site's managing editor Karen Pagsolingan, who noted that "PEP is not a tsismis website."
She explained, "We take our job seriously—whether the story is as delicate as the video controversy involving Katrina Halili, or as knotty as the split of Kris Aquino and James Yap, or as trivial as the kuto of Robin Padilla's son Ali... Our main purpose is to inform—with speed, accuracy, and, yes, entertainment value."
According to the organizers, this year's web awards used the following criteria:
(1) Search engine's competitiveness, which is primarily determined by the page views and unique users,
ADVERTISEMENT - CONTINUE READING BELOW
(2) Technical performance, and
(3) Social media engagement.
Following is the complete list of winners:
Television: http://www.gmanews.tv
Portal: http://ph.yahoo.com
Newspaper: http://www.sunstar.com.ph
Entertainment: http://www.pep.ph
Government: http://www.pagasa.dost.gov.ph
Marketplace: http://wwwsulit.com.ph
Jobs: http://www.jobstreet.com.ph
Telecommunication: http://www.smart.com.ph
Gadget: http://www.nokia.com.ph
Organization: http://www.pse.com.ph
School: http://upd.edu.ph
Banking: http://www.metrobank.com.ph
Travel: http://www.philippineairlines.com
Insurance: http://www.sunlife.com.ph
Reference: http://www.wikipilipinas.org
Magazine: http://ww.fhm.com.ph
Retail: http://www/pcx.com.ph
Directory: http://ph.88db.com
Sports: http://www.pba.com.ph
Reviews: http://www.spot.ph
Fashion: http://www.stylebible.ph
Automotive: http://www.topgear.com.ph
Technology: http://www.yugatech.com
Gaming: http://e-games.com.ph
Community: http://forum.philboxing.com
Corporate: http://www.nuffnang.com.ph
Social Network: http://www.friendster.com