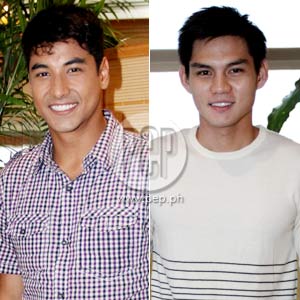 ---
The fight for the last immunity necklace in the Survivor Philippines Celebrity Showdown had two versions.
The last immunity challenge of this season's Survivor broke one record and several friendships along the way.
Day 34, with five remaining castaways of the Galone tribe, Akihiro Sato, Aubrey Miles, Ervic Vijandre, Moi Bien, and Solenn Heussaff were to hold to the pole where the immunity necklace was hanging for as long as they could.
Winning this endurance challenge would be awarded a brand-new Honda Civic.
Three challengers—Aki, Ervic, and Sollen—surpassed the endurance record held by Survivor Palau winner Amanda Colley Van Cooll of 5 hours, 52 minutes, and 10 seconds.
The last two men standing, Aki and Ervic, nearly doubled that time. They locked in a record 10 hours and 53 minutes.
And it ended only because Aki chose to give way to Ervic following an exchange deal caught on-cam: If Aki drops out, he gets the immunity and Ervic gets the car.
The winner of this challenge gets to choose between the two prizes—the car or the immunity—with the prize he does not choose going to someone of his choice.
Viewers were shocked when Ervic got the car but gave the immunity necklace, not to Aki, but to Aubrey Miles.
PEP (Philippine Entertainment Portal) talked to both Aki and Ervic—and this is their side of the story:
ERVIC'S SIDE. Ervic was playing for the mind game.
He says, "Alam na rin naman ng lahat na ang solid alliance ko, si Aubrey.
"Tapos, nagkaroon kaming tatlo ni Solenn ng secret alliance.
ADVERTISEMENT - CONTINUE READING BELOW
"Hindi pa namin alam kung magiging Top 5 ba kami, o Top 4, o Top 3, pero ang may alliance, kaming tatlo lang.
"Sabi pa noon, baka double elimination na naman ang mangyari kaya dapat kaming tatlo ni Solenn ang matira.
"Hindi na kasama si Aki noon.
"Ngayon, the whole time na nakatayo kami, nagne-negotiate na siya. 'O, sa iyo yung car, sa akin ang necklace.' Ako, tango lang nang tango.
"Mind game ito, e. Hindi ko naman din alam kung gagawin niya rin yung ipinangako niya, sakaling ako ang matalo.
"Sa akin, dahil hindi ko na siya alliance, ang sa isip ko na lang, kailangan manalo ako para sa aming tatlo nina Solenn at Aubrey.
"Kasi, sa isip ko, kahit nagbigay na siya ng salita, hindi rin ako sure kung tutuparin niya yun."
He adds, "What's the point naman na papaabutin ko pa ng 11 hours kung bibigay lang din naman ako sa negotiation?
"Di sana, nung kaming dalawa na lang, nakipag-usap na talaga ako nang masinsinan na ganoon ang gagawin namin.
"At saka ang gusto niya, yung necklace. Lima pa naman kami. May isa pang matatanggal, tapos hindi pa naman siya ang tina-target. Kaya oo lang ako nang oo.
"Pero kita n'yo naman, hindi naman talaga ako nakikinig, nagku-concentrate lang ako. Kaya nung bigla siyang tumalon, pati ako nagulat.
"Kita n'yo naman noong nagkabotohan na, hindi rin naman siya ang binoto namin, hindi ba?
"Di kung trinaydor namin siya, siya ang tinanggal naming tatlo nina Aubrey at Solenn, pero hindi pa rin."
ADVERTISEMENT - CONTINUE READING BELOW
The group voted off Moi.
AKI'S SIDE. Aki went for the gentlemen's agreement.
According to the Brazilian-Japanese model, "I was really mad at them [Ervic and Aubrey] after the challenge and I did not talk after that. But now, we're okay.
"There were certain rules during the challenge. At one point, we're not allowed to move our feet.
"I saw Ervic move his feet so I told the production he's moving his feet.
"Ervic said I moved mine too, but I saw him first.
"So the game was stopped at that point, but this was not shown in TV so we can adjust.
"Then I saw him move again but the game continued and then we started talking.
"I told him, 'You have more chance than me in the next elimination. So if I go down now, you can get the car and I can get the necklace. Or if I win, I will still get the necklace and you still get the car.'
"Ervic said yes, so I jumped.
"I'm surprised when Ervic gave the necklace to Aubrey.
"I worked so hard for the challenges, I don't want to be eliminated at this point.
"But in the end, it's just a game."
One footnote to this final immunity challenge: this could be a major factor for the jury in choosing the first sole celebrity survivor.