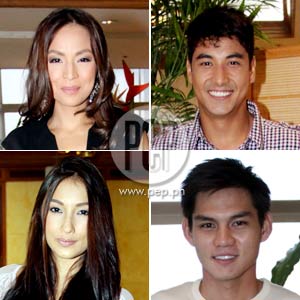 ---
It's the Final Four's turn to answer the question: Do they think they will face a bitter jury?
On December 3, in front of a live audience and millions watching at home, Survivor Philippines Celebrity Showdown host Richard Gutierrez will announce who will be the first Celebrity Sole Survivor among the final four castaways—Akihiro Sato, Aubrey Miles, Ervic Vijandre, and Solenn Heussaff.
Their jury will be the last six castaways voted out after the merge: Jon Hall, Aira Bermudez, Michelle Madrigal, Ahron Villena, Elma Muros, and Moi Bien.
At the pocket presscon for the Final Four, PEP (Philippine Entertainment Portal) asked two important questions: What do they think lies ahead after the meeting of the tribal council? And, what are their chances of winning?
Aki, "the nice guy," thinks it will be a fair game for all of them.
"In the end, it's not about who you are on the island, but how you played the game. I think the jury will see it this way," he said.
Aubrey, "the mastermind," seconds Aki's belief.
"This jury is not stupid," she said.
"Sabi nila, bitter jury yun. Pero sa totoo lang, hindi ko nararamdaman yun.
"Siguro may nagkagalitan, pero they're not stupid to let their emotions rule their choice.
"Sa aming apat, everyone's deserving. So, siguro magiging factor na ang who took the most risks and who loves the game most."
Ervic, "the power player," is just as believing for a fair trial but with some reservation.
"Mahirap kasing sabihin," he said.
ADVERTISEMENT - CONTINUE READING BELOW
"Feeling ko, may nagalit din pero hindi naman siguro nila ito gagawing dahilan para piliin nila ang dapat talagang manalo.
"Iba-iba kasi ang ginawa naming larong apat, e. Kung sino sa palagay nila ang may pinakamagaling na game plan, yun ang pipiliin nila."
Solenn, "the island goddess," hopes that outside opinions about them won't count and they would be judged on how well they played the game.
"Feeling ko, yun ang dapat," she said.
"Ako, they say I did not do anything but I worked hard. In camp, whatever I had to do, I did.
"I wasn't just loud so they were surprised that I'm still here.
"Physically, I'm stronger than Moi and I'm always the last woman standing in all challenges.
"I think my strategy of not being too loud like the rest of them worked," Solenn said.