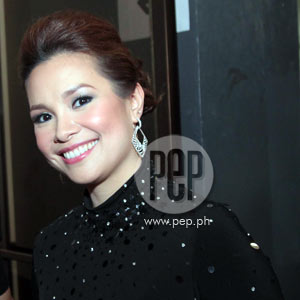 ---
Last December 2, Lea Salonga was announced as one of the celebrity judges of Avon Voices, a global online singing talent search for women and songwriting competition for men and women.
The Filipina singer joins a renowned panel of music industry leaders composed of Grammy-winner Fergie of the Black Eyed Peas, legendary songwriter Diane Warren, Grammy-nominated singer/songwriter Natasha Bedingfield, Australian Artist of the Decade Delta Goodrem, Brazilian pop star Ivete Sangalo, and Russian sensation Valeriya.
Avon Voices marks the start of the company's year-long 125th anniversary celebration in 2011. The CCP Little Theater was selected as the venue for the regional launch of Avon Voices, which had its New York City launch just a day before, on December 1, 2010.
During her short interview with the press last December 2, a loud voice was heard, belonging to none other than Nicole, Lea's four-year-old daughter.
The singer-actress immediately entertained Nicole who couldn't stop admiring her mom's gorgeous gold evening dress.
Nicole waited patiently beside Lea, occasionally asking her mom something during the course of the interview.
FALSE ISSUE. When asked about the rumored "dedmahan" between her and Sharon Cuneta during the concert of Ai-Ai delas Alas, Lea says, "That's really weird, I really don't know how that came up, I came off the stage from Ai-Ai's concert, I saw her and we hugged each other."
She declares, "It totally makes me angry, it's totally untrue because there is no issue between me and Mega.
"I'm even getting tweets from total strangers, and I'm like, 'What the heck, paano naman ako nasangkot dito?'"
She believes it's unfair to both of them when something like this [untrue stories] happen.
Lea reveals, "She [Sharon] always treats me nicely, with kindness, and she's always nice.
"She even acknowledged me from the stage. It ticks me off that someone invented this [falsehood]."
ADVERTISEMENT - CONTINUE READING BELOW
SHARON-AGA TAMPUHAN. When asked about the tiff between Aga Muhlach and Sharon, Lea was very careful in answering because "they're both friends of mine."
She explains, "One, hindi ko talaga alam ano ang naging pasimuno ng away, ng tampuhan nila, di ko alam, I don't know.
"It's hard to base comments on hearsay, on what's been coming out in the papers, kasi baka may kulay na, malayo na sa katotohanan.
"Case in point, the fact that somebody wrote that we [Sharon and Lea] snubbed each other, when in fact that didn't happen.
"It's hard for me to comment, and by the time I came out to the audience for the rest of the show, a lot of what allegedly happened had already happened and I didn't see it.
"But if there is any tampuhan between the two of them, I'm sure it's best to privately figure it out, and they're two grown people.
"And I believe that everything can be solved and figured out over a couple of bottles of wine and some food and friendly atmosphere. And away from the eyes of the media."
MOVIE WITH AGA. As for her upcoming movie with Aga, Lea stated that they will have to check their schedules to see how and when they could do it.
She's already received the treatment/storyline from Star Cinema and she enthuses, "I thought it's absolutely gorgeous, and I was in tears reading it."
The international singer-actress is very excited about her movie comeback.
"It's all a matter of figuring out who the director is going to be, and I will defer to Aga because he's worked with far more than I have, certainly, and schedule, crew, director of photography, and all that kind of stuff."
She smiles and continues, "It's something that the two of us have been looking forward to for a very long time."


Indeed, fans of the Aga-Lea tandem will be saying, 'Sana maulit muli, muli.'
ADVERTISEMENT - CONTINUE READING BELOW
HER HUSBAND'S VENTURE. This December, Lea says that she will definitely watch the premiere of the animated film RPG: Metanoia, an official entry to the 2010 Metro Manila Film Festival.
She also looks forward to watching it when it comes out in theaters so that she can see for herself how audiences respond to the film co-produced by her husband Robert Chien.
RPG: Metanoia is the first Philippine full-length CG-animated feature in 3D jointly produced by Star Cinema, AmbientMedia, and Thaumatrope.
Robert serves as the executive producer of the film while Lea's brother, Gerard Salonga, did the movie's musical score.


Lea says that her husband Rob and brother Gerard have had sleepless nights while supervising the coloring, editing, and monitoring the production of this MMFF entry.
She knows that her husband is difficult to please, and that this movie is really special to them.
Her brother even commented, "Ang galing ni Aga, ang galing ni Aga talaga!"
In this animated film, Aga lends his voice as the father of lead character Nico (portrayed by Zaijian Jaranilla). Eugene Domingo lends her voice as the mother of Nico.
(CLICK HERE to learn more about RPG: Metanoia and other MMFF entries.)
CHRISTMAS IN CALIFORNIA. Lea and her family plan to spend Christmas 2010 in California with her husband's family since they didn't get to spend it there last year.
They'll be celebrating the New Year here in the Philippines.
"We'll just eat, go around, visit my husband's grandparents and just have a relaxing time," says Lea with a smile.
For 2011, Lea is looking forward to heading a lot of concerts, including a major one in Bangkok by February.
She is also slated to appear in concerts in the United States by March.
PASSING THE TORCH. These concerts are on top of her Avon Voices commitment, which she took on because it was hard to say no when she saw the list of illustrious judges already on board.
ADVERTISEMENT - CONTINUE READING BELOW
She points out that it's something that she "can do in my jammies, judging online and looking at entries over the Internet."


She remarks, "To know that you have a hand in choosing someone to become a global superstar is an exciting prospect, and I'm not getting any younger, it's nice to pass something on to someone else."
During the launch of the global singing tilt at the CCP, the program started when several Filipina singers set the mood for the evening—each lady belting out songs that were seamlessly arranged in a medley of women empowerment selections.
Host Issa Litton then called on Avon president and general manager Mike Gudgin to explain what Avon Voices was all about.
The audience that evening was composed of Avon representatives from Thailand, Australia and the Philippines, joined by regional and local press representatives.
Avon Voices, Gudgin explained, will be held in over 60 countries, and is open even to the 6.2 million sales representatives of the company worldwide.
Avon Voices seeks to ignite a global movement of music, encouraging the dreams of women everywhere, letting them tell their story through song, and expressing their heartfelt aspirations.
Lea closed the evening in fitting fashion by giving her powerful rendition of "I Believe I Can Fly."
She pointed out that this contest is not just about searching for talented singers but also gives hope to men and women everywhere.
She's really excited about this global event and has this to say about possible techniques for the aspirants: be in tune, have a good ear and of course, be pleasant-sounding.
She'll be looking for contestants who have confidence and are sure of themselves. The singers have to be able to capture the audience—and this goes beyond vocal talent and technique.
Lea stresses that it has to be believable and real.
ADVERTISEMENT - CONTINUE READING BELOW
She believes that Avon Voices provides an opportunity for those who believe they've got the talent and are willing to do everything they can to pursue their dreams.