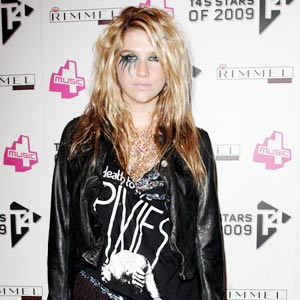 ---
Explicit photographs showing Ke$ha involved in several sex acts have been leaked onto the internet.
The images feature the "Tik Tok" singer kissing and biting the bottom lip of a bearded man in one shot and receiving oral sex in another, these were posted on gossip blogger Perez Hilton's adult-oriented website, Unrated Perez.
The 23-year-old pop star has not yet confirmed if it is her in the pictures.
Ke$ha recently revealed she had split from her drummer boyfriend Alex Carapetis because he had been acting like a "woman."
She said: "We're not so dating anymore. He had a Keith Richards vibe to him, but then he started acting like a woman, and I just can't handle that."
However, the blonde beauty already has ideas on how to land a new man.
She explained: "I usually do something ridiculous like send him over a shot of whiskey and then spank him. Something like that. I wouldn't say I'm aggressive, but I'm a pervert."
ADVERTISEMENT - CONTINUE READING BELOW
"I have a gold Trans Am and my favourite thing to do in the world is to drive around blasting Led Zeppelin or Black Sabbath, catcalling dudes. It doesn't work, but it's fun."