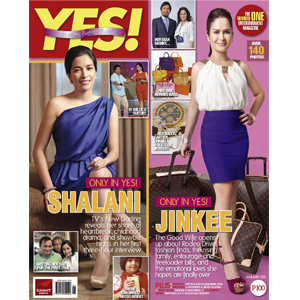 ---
Jinkee Pacquiao and "TV's Newest Darling" Shalani Soledad.
Shalani Soledad grants a three-hour interview with the country's N0. 1 Entertainment Magazine, where she finally breaks her silence on the breakup with Philippine President Benigno (Noynoy) Aquino Jr., her boyfriend of two years.
The beautiful Shalani—who says she has not given a proper sit-down interview to any media platform before this, particularly one of this length—remains generally controlled and cautious about her statements, but shares enough for the public to get its answers.
Asked whether she saw the breakup coming, she nods, then says: "Di 'ba may tinatawag tayong woman's instinct? And, of course, as someone in a relationship, mararamdaman mo naman, e. Mararamdaman mo kung nagbago ba. And you would just hope, no, and you would just pray na, sana, sana maging okey."
She talks about her attitude towards Noynoy through the occasions he wasn't there for her, how she dealt with the signs that their relationship was turning cold, and what answers she still seeks today about the breakup.
ADVERTISEMENT - CONTINUE READING BELOW
Since then, Shalani has been propelled to stardom with TV5's offer for her to co-host the evening-primetime game show, Willing Willie, with its main host and creative wellspring, Willie Revillame.
"It wasn't planned, ang bilis ng mga pangyayari," Shalani says, looking back to the day she first stepped into Willie's Ayala Heights home to formally refuse his offer. "[But] we found the offer sincere, so iyong purpose namin of saying no, it got to saying yes."
And since then, the willful Shalani has become a bet for higher government office. With her term as councilor on its third and last, and her admission that she intends to pursue her political "calling," the 30-year-old politician leaves no doubt that her personal plans include gunning for a national position.
YES! also features Shalani's growing-up years, through an interview with her mother Evelyn, who has vivid memories of the 20 years she worked abroad to provide for Shalani and Carlos, the two children she left in the care of her own supportive parents and siblings.
ADVERTISEMENT - CONTINUE READING BELOW
Evelyn shares with YES! never before seen childhood pictures of TV's Newest Darling.
And, in an unexpected moment of openness, Shalani tells the riveting tale of her meeting with her father, the former Banco Filipino chairman Adolfo "Adi" Aguirre. It is their first meeting ever in Shalani's 30 years.
She also provides YES! readers with the only photo taken of the moment, a cellphone image showing her and father with James Gaisano, the wealthy mall owner who made the meeting happen.
Shalani now says her father Adi is including her in his business plans, and she's excited to admit that she is including him in her political plans.
"Yes, yes!" she says animatedly, when YES! asks if Adi Aguirre will support her future campaign moves.
As a bonus, YES! gets Willie to talk about the rumors linking him to Shalani: Is he courting her? Is she his girlfriend now? Is he buying her a Forbes Park house? Is he set on a July 2011 wedding date?
ADVERTISEMENT - CONTINUE READING BELOW
Get the answers in YES!
JINKEE PACQUIAO. As if this were not enough, YES!also carries a very special interview with Jinkee Pacquiao, who talks about the emotional lows she went through at the time Krista Ranillo was still in The Pambansang Kamao's life.
She shares her thoughts—about the day Krista got married in the U.S. to a man who was Manny's close friend, about how she deals with the many female temptations she assumes are still lurking around her celebrity husband, and about how she has added making herself pretty and desirable in her current to-do list.
"Ibahin naman natin ang strategy," she giggles. "Hindi na ako nagna-nag. Masarap iyong siya naman ang nagtatanong kung bakit ako nagbibihis."
In the end, Jinkee's story is touching, even to reporters who've listened to countless tales from various celebrities, because she says it all without drama, without striving for effect, without thought to curing her words for media consumption.
ADVERTISEMENT - CONTINUE READING BELOW
She simply speaks the words that a wife anywhere may speak.
The young wife also talks about how she keeps the reins on their funds—money which, she says, is borne of the literal blood, sweat, and tears of her husband.
She mentions the freeloaders, the growing retinue, the free boxing tickets (sometimes even free hotel accommodations) for Manny's rich and poor friends alike, and the never-ending stream of growing expenses.
She goes into the details of these regular and special expenses: "Ang daming humihingi ng pera, pera, pera, kaya ang dami naming gastos, ang daming gastos." For their basics, she says their expenses come up to P2 million a month.
She personally oversees their domestic and business staff, too, and goes through the detailed accounting of their enterprises and all the other steps she feels she must take to protect the interest of Manny and their four children.
It's a tough job for a 30-year-old. But she makes herself do it: "Sabi ko kailangan i-adjust ko 'yong sarili ko na masanay ako. Kailangang ayusin ko 'yong time ko for Manny, for my kids, sa business ko. Gano'n, e. Nakaka-stress minsan, pero gano'n talaga, e. Wala akong magagawa. Parang I have no choice na. Ganito ang role ko."
ADVERTISEMENT - CONTINUE READING BELOW
And through it all, Jinkee has no mean words to say about anybody. YES! dares say that, even with all the fame and millions today, the young wife of Manny Pacquiao remains almost naive and quite innocent of the ugly world out there.
As a bonus, YES! features Jinkee's fashion diary, complete with photos of her travels and her prized luxury items.
"Sa Beverly Hills ako namimili," Jinkee tells YES! when asked about where she shopped after the Pacman's very recent victory over Antonio Margarito.
She also explains how she finds things: "'Yong mga kaibigan ko tine-text ako kung ano'ng magandang brand. Like si Doktora Vicki Belo, meron siyang gustong-gusto na damit na binibili, so pinupuntahan ko. Tinitingnan ko kung okey, kung gusto ko rin. So 'yon ang binili ko ngayon, 'yong mga Herve Leger na damit."
These Herve Leger clothes, as well as Jinkee's other purchases, appear among the 140-plus photos accompanying the Jinkee feature. Fashionistas will definitely want to see her many Birkin bags and Hermes jewelry, among other things...
ADVERTISEMENT - CONTINUE READING BELOW
yesmagazine.ph.
A digital version of YES! is available for international subscribers. Just visit PEP.ph for subscription details.
PEP is the online affiliate of YES! Magazine.