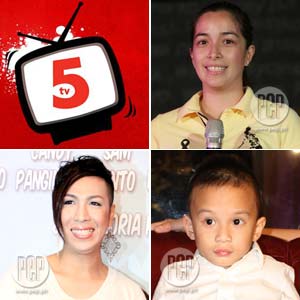 ---
True to its name, the entertainment business is about keeping audiences interested and involved.
There are big showbiz personalities who can steal the limelight effortlessly, given their fame, temperament, and circumstance. They appear on The PEP List.
There are also not-so-big names who have the personality, the eccentricity, and the aura to grab their share of fame, and not necessarily for just 15 minutes. They, too, appear on The PEP List.
All told, those in The PEP List are on the level of current celebrity. People are gaga about them, people try to dip into their lives, people will pay to get more of them.
These celebrities have penetrated the tri-media──print, radio and TV, as well as cyberspace, with people including them as subjects in their social networking sites—and while nobody knows how long people will remain interested in them, for now they are real scene stealers.
Topping The PEP List is TV5's breakthrough in the two-way fight for TV ratings between Channels 2 and 7. Under the management of business tycoon Manny V. Pangilinan, with its adopted new slogan, "Para Sa 'Yo Kapatid," TV5 seems to be nipping at the heels of the two network biggies.
ADVERTISEMENT - CONTINUE READING BELOW
Also included in The PEP List are talents produced by reality-show contests: Pilipinas Got Talent grand winner Jovit Baldivino, who has captivated everyone with his distinct voice;
Survivor Philippines Celebrity Edition 2 products, such as Celebrity Sole Survivor Akihiro Sato, Solenn Heussaff, Ervic Vijandre and Moi Marcampo;
and Pinoy Big Brother Teen Clash Edition's 2nd big winner, Ryan Bang.
CLICK HERE to find out the complete list of PEP's Scene-Stealers for 2010.