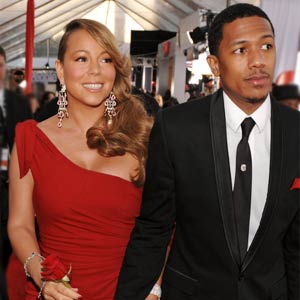 ---
Mariah Carey and Nick Cannon are expecting a boy and a girl.
The couple, who are due to have twins in April, revealed they will be welcoming a baby of each gender into the world, and were surprised nobody had guessed their happy secret.
Mariah, 40, told Life & Style magazine: "Even before we announced it was twins, I was trying to keep everything gender-neutral because I didn't want to impose an identity on them too soon.
"There were fan contests on Twitter about what gender they are and rumors about them being two boys or two girls—but nobody guessed this!"
Meanwhile, Nick—who broke the news that the couple were expecting their first children back in December—confirmed they would be having mixed gender twins.
He told E! Online: "It's a touchy issue because you never want to say too much too early. If my wife says it's true, then it is."
The 30-year-old actor-comedian recently admitted he and Mariah have come up with some "unique" names for their unborn offspring.