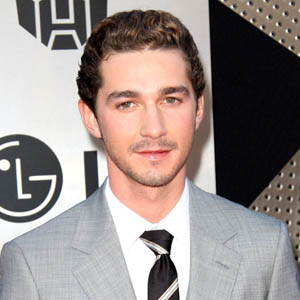 ---
Shia LaBeouf was placed in handcuffs by police after a fight broke out in the early hours of Saturday morning (February 5).
The Wall Street: Money Never Sleeps actor was involved in an altercation with another man outside the Mad Bull's Tavern in Sherman Oaks, California, after he was reportedly called a "f****t" by someone who asked for an autograph.
Mark Mastro told RadarOnline.com: "My girlfriend saw Shia, and told me. I wanted to get a picture with him so I went over to his table, sat down next to him, and told him I was a fan of his. I called him Mr. LeBeouf.
"He didn't want anything to do with me. He said he just wanted to chill and refused to do a photo. I walked away."
Later, outside the bar, Mark and a friend tried again to talk to the 24-year-old star, before insulting him with the gay slur.
Mark said: "My friend said, 'What's up Shia?' Shia told him to 'Get the f**k out of my way.' He was slurring his words.
"That's when I said to my buddy, 'Don't worry, he's just a f***ing f****t anyway.'
"He turned around, cursed me out, and I started laughing."
However, the situation turned ugly after Shia ran from his car and charged at Mark, only to end up in a headlock by a bouncer who handed him over to nearby police.
He added: "A bouncer put Shia in a headlock. A cop just happened to be driving by and saw the commotion. He pulled up the bouncer literally handed LeBeouf over to him [sic].
"Apparently the cop called for back-up because there were at least seven other squad cars there in minutes."
Despite the commotion, no charges were made and no one was arrested.
ADVERTISEMENT - CONTINUE READING BELOW
Shia—who broke up with British actress Carey Mulligan last year—has a history of run-ins with the police.
He was arrested on suspicion of drunk driving in 2008 and was charged with misdemeanor criminal trespassing after being found intoxicated in a drug store in Chicago in the same year.