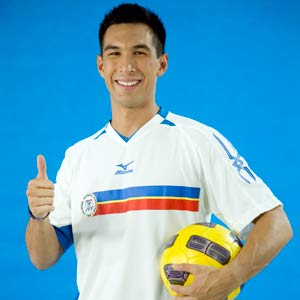 ---
Anton del Rosario of the Azkals football team found time to grace the launching of the social networking game named Alter Space, which was held last February 23 at Le Bistro Vert along Valero street in Makati City.
Alter Space is the first Filipino-made Facebook game developed to educate the public on how to take care of the environment through catchy game graphics brimming with practical scenarios designed to highlight ways to preserve earth's natural resources.
Anton was tapped by AboitizPower to represent and promote the game, which will be formally launched in Cyberspace on Friday, February 25.
Joining the football player in spreading the word about Alter Space is well-known costume player turned television host Alodia Gosiengfiao.
"I'm a fan of online games. Recently, I haven't had too much time to play because of all the soccer that's been going on. But once the soccer starts settling down, you'll be able to find me online for sure," said Anton in a conversation with PEP (Philippine Entertainment Portal).
WEARING THE COUNTRY'S FLAG. Anton and the rest of the national men's football team are currently in the middle of a tough training program in Baguio to prepare them for a game in Mongolia.
Choosing to hold training camp in the country's summer capital is a strategic decision on the part of the Azkals coaching staff to better condition the players once they compete in a foreign territory.
"We're trying to get used to the air. Trying to get used to the elevation because we have a game in Mongolia on March 15, and over there, the elevation's gonna play a major role together with the weather," explained Anton.
The amount of dedication being invested by the players every time they step on the field stems from their collective desire to win and make the Filipinos who are watching back home proud.
ADVERTISEMENT - CONTINUE READING BELOW
"There's always pressure," confided Anton. "I mean, we're playing for the country and that alone puts a lot of pressure on you.
"But we know what to do and we're gonna go out there and win. That's what we do best. That's what you could expect from us."
ONE TRUE GOAL. The success of the Azkals has earned the team a growing number of fans and supporters.
Local football enthusiasts hailed the team for making football relevant locally after years of placing behind other sports that are considered more popular like basketball and boxing.
"It's a little overwhelming right now—all the attention and stuff. We haven't got this much attention before and we're seeing it as a good thing because now we're promoting the sport and that's what we've been wanting to do from the start: to get football to be noticed in the country and right now people are noticing and taking interest," smiled the 29-year-old Filipino-American athlete.
But while the sudden interest in football is perceived as a welcome event, others are worried that the fan frenzy surrounding the Azkals might eventually be a source of distraction rather than genuine inspiration.
"We all know our priorities. Everything's soccer right now—everything's football, and anything that comes with it afterwards is just secondary," stressed Anton.
"We're all concentrated and we're all looking forward to our next game because the tension's gonna come out. But just as long as we all know that our focus is on the next game, then we'll be fine."
There's also no room for jealousy among the individual team members despite the fact that each one of them is now being treated as celebrity.
The concept of team work imparted in sports apparently applies even outside the playing field.
"We're a team," Anton pointed out. "In a team, you need tightness. You need closeness in a group or else things aren't going to work out well. And right now, it's obvious that we are very close because of the success that we are getting."
ADVERTISEMENT - CONTINUE READING BELOW