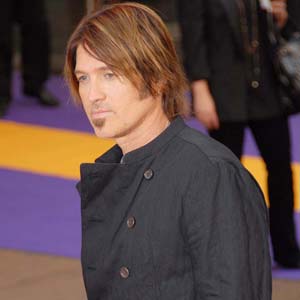 ---
Billy Ray Cyrus is working on "mending his family."
The singer-and-actor recently spoke out about his worry at daughter Miley's behavior—which included smoking a legal high through a bong device and throwing her 18th birthday party in a bar—but he has now admitted his comments were "unintentionally explosive."
He told People magazine: "It is very important to me to work on mending my family right now. My family is the most important thing I have, and we are working together to make sure our future is stronger and healthier."
The Hannah Montana star—who is rumored to have cancelled a number of TV talk show appearances in the aftermath of his remarks—admits he has learned from the outcry his comments received.
He added: "It is all a learning process, and we thank everyone for their support and respect of our privacy as we sort through very important family issues."
Billy Ray—who is currently in the process of divorcing Miley's mother Tish Cyrus—had claimed he was scared for Miley and feared she was out of control and receiving bad advice.
He said: "Every time the train went off the track... her people, or as they say in today's news, her handlers, every time they'd put the blame on me... I took it because I'm her daddy... OK, nail me to the cross.
"I'm scared for her. She's got a lot of people around her that's putting her in a great deal of danger. I want to get her sheltered from the storm."