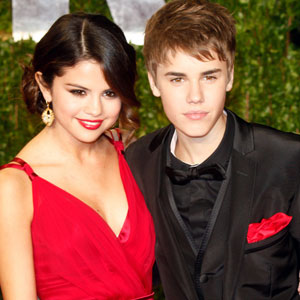 ---
Justin Bieber and Selena Gomez shared a kiss at the Vanity Fair Oscars after-party last night (February 27).
The pop megastar and the singer-and-actress—who have been rumored to be dating for several weeks—arrived together at the exclusive bash at the Sunset Tower Hotel in Los Angeles, and were later pictured together in a photo booth kissing and cuddling, seemingly confirming their relationship.
The pair even matched their outfits for the occasion, with 18-year-old Selena in a floor-length red dress while Justin—who turns 17 today, March 1—accessorized with the same color pocket handkerchief.
Although the pair have yet to admit they are together, Disney star Selena recently confessed she is in love with the "Baby" hitmaker.
She said: "I love him. He's been in my life a very long time. He's my friend.
"I think it's awesome people are interested—I don't understand why."
Justin—who recently released his debut movie Justin Bieber: Never Say Never—and Selena were not the only pair to enjoy the party.
Jake Gyllenhaal and his ex-girlfriend Taylor Swift—who separated in December—were spotted chatting.
According to the Washington Post newspaper, the pair were seen talking near the bathrooms, and were overhead talking about their feelings for each other.
However, the "Love Story" singer left alone.
JUSTIN'S BIRTHDAY. On the other hand, Justin is asking fans to donate to charity to celebrate his 17th birthday today, March 1.
The "Baby" hitmaker has implored his fans to give 17 dollars to Charity: Water in order to raise $17,000 for clean water in developing countries.
Writing on his Charity: Water page, he said: "Together, we've made a big difference for many causes. Did you know that about 4,500 kids die each day from waterborne disease? By building clean water projects for villages that need them, we can prevent this! I want to make my birthday matter this year—let's make it so more kids can grow up to have a 17th birthday like me. Join me to make a change.
ADVERTISEMENT - CONTINUE READING BELOW
"I'm really so grateful for my family, friends and fans—and I believe we can do something big to help bring clean water to people in need. Even if you don't have $17 to give I just ask you to go out in your community and try and make a positive difference. Even the smallest act of kindness can go a long way. Thanks and God Bless! #makeachange."