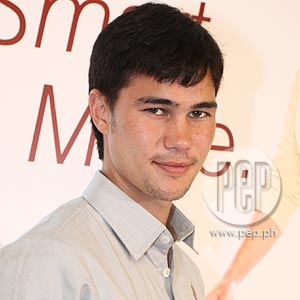 ---
Phil Younghusband confirmed reports that four Azkals key players—goal keeper Neil Etheridge, midfielders Simon and Christopher Greatwich, and defender Rob Gier—will not be able to join the Philippine football team in their next pre-qualifying match at the Asian Football Confederation Challenge Cup in Ulan Bator, Mongolia, on March 15.
The game will be the Azkals' second match against Mongolia's Blue Wolves. The country's national football team defeated Mongolia, 2-0, in their first game last February at Panaad Stadium in Bacolod.
"Four of our players won't be able to make it—Neil [Etheridge], Rob Gier, Simon, and Chris Greatwich. They won't be coming," said Phil in an interview after the store opening of Hush Puppies at the Resorts World Manila, Pasay City, yesterday, March 2.
But the team remains positive that they can still give a good game against Mongolia, according to Phil.
"Against Mongolia, I don't think we will need them. I mean, we have substitutes and reserves, so we're good enough to take their place and fill it when needed.
ADVERTISEMENT - CONTINUE READING BELOW
"We're still confident that even without the strong players missing, we can beat Mongolia," Phil asserted.
Philippine Azkals just got back to Manila from their week-long high-altitude training in Baguio City. Next, the players will have another training in Japan before their game in Mongolia.
"We'll go to Japan on Monday and go straight to Mongolia on the 13th. We're training every day for the moment. We're prepared and we're confident that we'll win the game," replied Phil when asked how the boys are preparing for the game.
"MY PRIORITY IS AZKALS." Phil stressed that his priority is the Azkals when asked if it's true that he's leaving Azkals for another team.
"That's news to me," he said. "Obviously, my priority is Azkals. My priority is the Philippines. My priority is football. Also, there's offers from other countries—Vietnam, Indonesia, Singapore, Thailand.
"You see, there are good offers out there. But for me and my brother [James Younghusband], our priority is our family. We need to be with our family.
ADVERTISEMENT - CONTINUE READING BELOW
"My priority is football and my priority, the Younghusband Football Academy. So, anything else is a bonus. Right now, we wanna be in the Philippines, we wanna be with our family. Our biggest concern is our mom and sister."
NO JEALOUSY. Meanwhile, PEP (Philippine Entertainment Portal) also asked Phil if other members of Team Azkals are not jealous of him and his brother James because they get the most attention from the public. They also get more product endorsements than the rest of the team.
"There are other endorsements to the team players. Right now, they haven't come out yet but we'll see," clarified Phil.
He added, "They are our teammates and we are a team. The players are very supportive and we are all very close whether we're pure Filipino blood or half-Filipino blood. We're all very close and supportive of each other and everyone understands the situation."
The 23-year-old striker also assured that this has never been an issue among the members of Azkals.
ADVERTISEMENT - CONTINUE READING BELOW
"We're all teammates, they're very close to us, they're very supportive, and most of all, they're good people and they're our friends. So, there's no jealousy, there are no arguments."
SHOW BUSINESS. It can be recalled that Phil Younghusband had his shot at local showbiz when he joined the second season of Philippine edition of Celebrity Duets in 2008.
Another opportunity came to him recently when he did a cameo role in an indie film called Happy Land, which is about "futkaleros" or street footballers. This is the second movie project of Jim Libiran, director of the award-winning indie film.
Although he already tried acting, Phil still describes it as "something difficult." Also, the other things a celebrity normally does still make him feel uneasy.
"For me, if it's not football, if it's dancing, singing and acting, it's very difficult," said Phil. "I get nervous sometimes. And every time I'm not nervous, that's when I'm in the football field because I've been playing football all my life.
ADVERTISEMENT - CONTINUE READING BELOW
"Acting is new to me, singing is new to me, and dancing is new to me. So, anything that doesn't involve football is out of my comfort zone and I find it very challenging."
PEP asked him if his previous appearance on television and his stint in Happy Land mean he's also gearing up to join showbiz.
The English-Filipino footballer vaguely replied, "My priority is in football right now. I'm not closing any doors. I'm not turning down any opportunities or burning any bridges. But my priorities right now are football and anything in the future is a possibility."