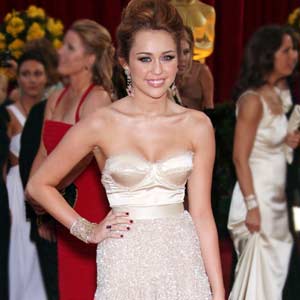 ---
Miley Cyrus is reportedly sending flirty texts to Kings of Leon rocker Jared Followill.
The "Party in the USA" singer was first linked to the bass player at the afterparty for the 2010 MTV Europe Music Awards in Madrid last November, and they have reportedly been exchanging phone messages ever since.
A source told website HollywoodLife.com: "Miley wants to keep Jared interested. She often sends him coy text messages. So far, he is a big fan of what she has been sending.
"Jared loves showing off his texts from Miley. He thinks she's very pretty and is excited she's still flirting with him."
Miley, 18, had recently split with boyfriend Liam Hemsworth when she met Jared in Spain, but did admit in 2009 she fancied him.
She said: "He's pretty good looking. I'm not usually one to freak, but me and Taylor Swift were like, 'Holy smoke!'
"Katy Perry was like, 'They have super hot girlfriends.' I was like, 'Dang it!'"
"Sex On Fire" rocker Jared was, at that time, engaged to model Alisa Torres, but they split later that year. Since then he has also been linked to Twilight actress Ashley Greene.
Both Miley and Jared, 24, also hail from the same town, Nashville, in the US.