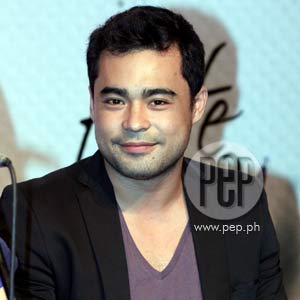 ---
Sid Lucero was in a great mood earlier today, March 10, when he found out about his back-to-back nominations in the 8th Golden Screen Awards.
He is nominated in the Best Actor-Drama category for the film Muli and in the Best Supporting Actor category for Rosario. (CLICK HERE to view the complete list of nominees.)
Another reason for his upbeat disposition is the fact that the actor was introduced as the celebrity endorser of Great Taste Trio during the media launch held at the Holiday Inn Galleria.
"Flattering would be the word coz it's my first endorsement. I'm speechless," he said.
To top it all, he also received a coffee-cup shaped birthday cake from his Great Taste family to mark his birthday on March 12.
SID IS SINGLE. Sid's seven-year relationship with Rozie Delgado ended last year, prompting members of the press to ask if he is dating anyone right now. He answered, "I go out and see other people. Let's see what happens."
Is he ready to fall in love again?
"That depends... Actually, who is ever ready? You don't know. Bigla ka na lang magugulat. I just came from a seven-year relationship and then I'm dating someone..." said Sid.
WORKING WITH MARIAN RIVERA. Sid made news when he agreed to be one of Marian Rivera's leading men in GMA-7's Amaya. Professional model Mikael Daez is the other leading man who will topbill this epicserye.
As soon as he learned that he would be paired with Marian, Sid took the time to learn more about his new leading lady.
"I talked to my brother Gabby [Eigenmann] kasi I know he's really good friends with Dingdong [Dantes, Marian's boyfriend]. I did my homework and I asked things na probably makakatulong sa trabaho namin. Para ma-skip na yung 'getting-to-know you' and breaking the physical boundaries.
ADVERTISEMENT - CONTINUE READING BELOW
"I'm really excited...being given the chance to work with her," he said with a smile.
Have they attended a workshop together?
"I did a reading with her. Ang workshop namin so far ay action workshop. She's very giving. Sobrang patient niya. She actually remembered that she met me sa wedding ni Ryan [Eigenmann, his cousin]."
Since this epicserye is set during precolonial times, Sid says that they use the Filipino martial art of arnis. "Buti na lang I have a little background on arnis but we use one stick lang."
When PEP (Philippine Entertainment Portal) asked him if he is open to doing kissing scenes with Marian in this GMA-7 fantaserye, he candidly answered, "I have no limits. In fact, the only time I gave myself a limit...it depends on who I am working with. If he or she has got walls, then I'll stick to those walls and I won't cross.
"But if that person is as open as I am...there are some actors who you don't have to talk to and you understand na."
RETURNING TO GMA-7. As a freelancer, Sid is able to work with different networks. His last project with the Kapuso Network was the fantaserye Etheria (2005) but he has since appeared in many ABS-CBN shows.
Last year, he was nominated in the 38th edition of the International Emmy Awards. His role in the Kapamilya teleserye Dahil May Isang Ikaw earned him a nomination in the Best Performance by an Actor category. Even though Sid lost to British actor Bob Hoskins for The Street, he made his countrymen proud for being the first Filipino actor to compete in this prestigious event. (CLICK HERE to read related article.)
"The first network I worked with was GMA-7 and I learned a lot. Then I went to ABS-CBN and now I'm going back. I'm happy that they gave me another chance," he told PEP.
ADVERTISEMENT - CONTINUE READING BELOW
Sid emphasized that he is still a freelancer and that he informed ABS-CBN executives properly before accepting the role in Amaya. "Per project lang talaga. That's why it's extra-flattering for someone to stay in one network.
"Of course, we asked permission if it's okay. Although there's no exclusivity or anything, pero siyempre, nagpaalam pa rin kasi nga loyalty. They gave us the go signal," recalled Sid.
SHARE THIS STORY Amaya " data-url="https://www.pep.ph/news/28642/sid-lucero-has-no-limits-in-shooting-scenes-with-marian-rivera-in-amaya-" data-desc="Sid works with GMA-7 on a per project basis." data-image="https://contents.pep.ph/images2/news/9592422ed.jpg"> Amaya " data-url="https://www.pep.ph/news/28642/sid-lucero-has-no-limits-in-shooting-scenes-with-marian-rivera-in-amaya-" data-desc="Sid works with GMA-7 on a per project basis." data-image="https://contents.pep.ph/images2/news/9592422ed.jpg"> Amaya " data-url="https://www.pep.ph/news/28642/sid-lucero-has-no-limits-in-shooting-scenes-with-marian-rivera-in-amaya-" data-desc="Sid works with GMA-7 on a per project basis." data-image="https://contents.pep.ph/images2/news/9592422ed.jpg">
SHARE THIS STORY
Amaya " data-url="https://www.pep.ph/news/28642/sid-lucero-has-no-limits-in-shooting-scenes-with-marian-rivera-in-amaya-" data-desc="Sid works with GMA-7 on a per project basis." data-image="https://contents.pep.ph/images2/news/9592422ed.jpg"> Amaya " data-url="https://www.pep.ph/news/28642/sid-lucero-has-no-limits-in-shooting-scenes-with-marian-rivera-in-amaya-" data-desc="Sid works with GMA-7 on a per project basis." data-image="https://contents.pep.ph/images2/news/9592422ed.jpg"> Amaya " data-url="https://www.pep.ph/news/28642/sid-lucero-has-no-limits-in-shooting-scenes-with-marian-rivera-in-amaya-" data-desc="Sid works with GMA-7 on a per project basis." data-image="https://contents.pep.ph/images2/news/9592422ed.jpg"> Amaya " data-url="https://www.pep.ph/news/28642/sid-lucero-has-no-limits-in-shooting-scenes-with-marian-rivera-in-amaya-" data-desc="Sid works with GMA-7 on a per project basis." data-image="https://contents.pep.ph/images2/news/9592422ed.jpg">