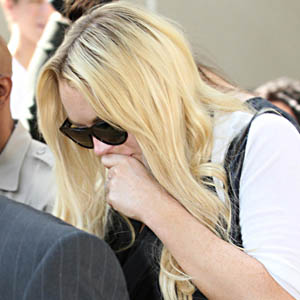 ---

Lindsay Lohan has been given longer to decide if she will accept a plea bargain for jail time.
The troubled actress appeared in court in Los Angeles yesterday (March 10), where judge Keith Schwartz granted her until March 25 to decide if she will accept a court deal and plead guilty or no contest in the alleged felony theft of a $2,500 necklace from jeweller Kamofie & Company.
The Machete actress had already been offered a six month sentence but her lawyer, Shawn Holley met with the deputy District Attorney and Judge Schwartz Wednesday (March 9), where she is thought to have bargained for a lesser punishment.
Although Judge Schwartz had asked for talks to be kept confidential it was reported—though not confirmed—yesterday he would reduce the prison term.
A source said: "Lindsay's lawyer Shawn Holley was asking for no jail time, but the judge said he would sentence her to a minimum of 60 days, but likely not longer than 90 days."
The lesser term is though to be in light of Kamofie & Company selling CCTV footage of Lindsay in their store in Venice, California, on the day the necklace disappeared calling their repute into question.
If the 24-year-old actress does not accept the deal the case will go to trial and she will face a much longer jail term if convicted.
A preliminary hearing for trial—which will be held under another judge, Stephanie Sautner—has already been set of April 22. At this time judge Sautner will decide if Lindsay has been in breach of her probation and should be held in jail, which is highly likely.
Lindsay's legal problems stem from a 2007 driving under the influence (DUI) arrest, and she is still under probation after completing a 90-day court ordered stay in rehab in January.
Lindsay is presently free on bail.