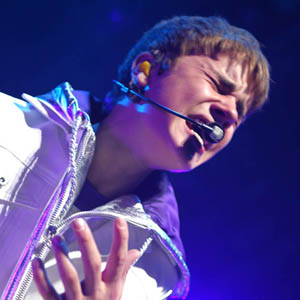 ---
Justin Bieber fans dressed up as cleaners and entered his hotel room in Liverpool.
The 17-year-old singer was furious when two girls aged 16 and 18 were discovered in his suite at the Hard Days Night Hotel in the English city—where he performed last week—and had them swiftly evicted after a "telling-off" for taking pictures and trying to get into his bed.
A source told the Daily Mirror newspaper: "The hotel was swamped by fans all desperate to catch a glimpse of Justin. But two particularly enterprising girls snuck in through a side entrance and stole two housekeeping outfits.
"After ditching their regular clothes and slipping into their new costumes they got the lift to Justin's suite and knocked on the door, calling, 'Housekeeping.' Having been allowed in, the girls began half-heartedly polishing tables and dusting surfaces.
"No one realized until the girls were alone, and in his bedroom taking pictures of his personal possessions on their phones. A member of Justin's entourage in another part of the suites heard them giggling and came through catching them in the act.
"The girls, following a telling-off, were evicted from the premises."
Upon hearing of the incident on Friday night (March 11) Justin—who wasn't in his suite at the time—checked out of the hotel and slept in his tour bus.
However, the hotel insist they have had no knowledge of the incident.
A spokesperson said: "There was a strong police presence outside not letting in members of the public, plus we employed an extra 20 security personnel."
Justin—who has been staying in the three-bedroom McCartney suite penthouse in the hotel—was last week trapped inside the building, with police telling him he was not allowed to leave or approach the balcony because so many fans were waiting outside.
Tweeting prior to the incident, the 'Baby' hitmaker said: "This is crazy. There are like thousands of people out there.
ADVERTISEMENT - CONTINUE READING BELOW
"Love everybody but gonna try and get some sleep. Please don't scream. Lol (sic)."