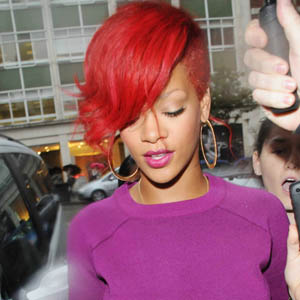 ---
Rihanna feels betrayed by her father.
The "S&M" singer has never forgiven her dad Ronald Fenty for cashing in on her problems by selling information to the media after she was assaulted by her ex-boyfriend Chris Brown in February 2009.
The 23-year-old pop star admits she felt heartbroken when she realized someone in her own family could use her for their own personal gain.
In an interview with the U.S. edition of Vogue, she said: "You hear the horror stories about people going behind people's backs and doing strange things, but you always think, 'Not my family. My father would never do that to me.'
"But my dad went to the press and just told them a bunch of lies. Because he hadn't talked to me after... that whole thing... He never called to find out how I was doing, if I was alive, nothing. He just never called. He went straight to the press and got a check. And now he does it again."
Even two years later, Rihanna still struggles to comprehend that her own dad would treat her so badly.
She tearfully added: "It's like, what do I even mean to him? It's really strange. That's the only word I can think of to describe it, because you grow up with your father, you know him, you are a part of him, for goodness sake! And then he does something so bizarre that I can't begin to wrap my mind around it."
The "Umbrella" hitmaker insists she has no interest in having a relationship with her dad, who is an ex-drug addict.
She said: "Now I'm like, whatever, I tried."
Ronald, 57, had claimed that he and his daughter had repaired their fractured relationship at a meeting in her native Barbados at Christmas.
He previously said: "I saw her twice before Christmas and she came to see me on Christmas Day [in 2010]. She showered me with gifts, a lot of stuff, many shirts and cologne.
ADVERTISEMENT - CONTINUE READING BELOW
"Maybe we're not as close as we were when she was growing up here and was at school. But we are blood, we do not stay angry and we are friends again."
Rihanna has previously revealed that her childhood was blighted by her dad Ronald's drug problems and eventual split from her mother Monica when she was 14.