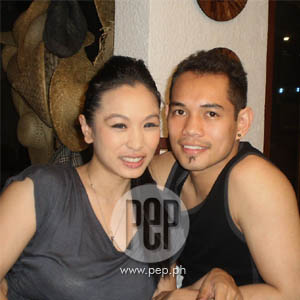 ---
By the time Nonito Donaire Jr. realized his gaffe—his "sonic boom" post—it had already elicited off-putting remarks from a few members of the press.
During his exclusive interview with PEP (Philippine Entertainment Portal), the boxing champ shook his head, and simply said, "It's a joke."
But some were saying it was ill-timed.
Hot on the heels of his feat as the new WBC and WBO Bantamweight World Campion was the squaring off with his dad, Nonito Donaire Sr.
The sports world was still reeling from his knockout fight with Fernando Montiel when he put out this remark in the social networking site (published as is):
"Chino, Pinol, n Ampong. Shut up n Leave my family alone: the Donaires n Marcials, esp my wife. Keep talking n ull feel what Montiel felt. U won't see it, ull just feel it. Sonic Boom!!"
REVISITING THE ARTICLES. Filipino Flash did not tell exactly why he mentioned only those four names. Actually, he had this no-controversy stance when PEP went to their home in Alabang Village. He seemed diffident about the interview. But with a bit of persistence on our side, his wife Rachel agreed to grant us about an hour of their time.
ADVERTISEMENT - CONTINUE READING BELOW
Contrary to some feedback that this couple had used the issue to be constantly in the limelight, Rachel said that in her capacity as the "business manager" of the popular boxer, she had chosen the people that they would speak to.
During Nonito's training, the former Taekwondo champion related that she'd usually ask reporters their reason for wanting to have a word with her husband."If there's something about the intriga, the phone call will end. And the ones that did interviews, they respected that it should only be about sports," she said.
She neither wanted to fan the flames nor magnify the issue.
It will be recalled that the couple rarely spoke about the feud that began in 2008.
Manny Piñol's November 10, 2008 article titled "Donaire Father-Son Team Faces Inevitable Split Due to Wife" was said to have hurt the younger Nonito the most, and supposedly widened the gap between him and his dad.
ADVERTISEMENT - CONTINUE READING BELOW
A portion of the article posted in Philboxing.com, stated (published as is): "But the sweet smell of success, and of course the financial rewards that come along with a world boxing crown, filling the air of the Donaire abode is now starting be spoiled by the foul odor of a souring relationship between father and son and this is mainly of Nonito Jr.'s new wife, taekwondo jin Rachelle Marcial.
"And unless something is done fast to remedy the situation, patch things up and put things in their proper places, what used to be a beautiful relationship between father and son—trainer and boxer—will soon come to a bitter end."
Manny wrote two related items, dated November 14, 2008 and February 9, 2009, before Junjun spoke lengthily about his family's feud more than two years later—January 6, 2011 to be exact—in Tris Dixon's article "Nonito Donaire: The Sadness Behind The Smile," which was published in Boxing News.
ADVERTISEMENT - CONTINUE READING BELOW
For his part, sports journalist Granville Ampong briefly wrote about the issue twice on Yahoo.
In his February 22 article titled "Donaire Jr. can eclipse Pacquiao's brilliance," he commented: "He [Junjun] can be a great magnet of attraction, only if he can reach back his ailing estranged father whom he bears his namesake. One thing though, America and Philippines still have a common heritage they both embrace: respect to one's parents, a catalyst that would transcend his character and likability across racial lines."
Chino Trinidad, according to Rachel, was one of the media people who approached her and Junjun for an interview about the issue.
In a separate story published in PEP (CLICK HERE), she was quoted as saying: "I told Chino huwag na lang kasi I didn't want Nonito to get distracted sa fight niya. But he insisted na dapat I give my side. I didn't want to make things worse, di ba? There are already people being hurt. Our focus that time was for Nonito to win his fight for the country."
ADVERTISEMENT - CONTINUE READING BELOW
BLAMING THE MEDIA. Junjun's tone was more resigned than defensive when PEP asked him to elaborate on his Facebook post. "If you really get to know me, mahilig ako mag-joke, e...Like I said, if you read the content...it's my page, I get to joke whenever I want."
In his explanation, he clarified that he meant no real harm:
"First of all, a sonic boom is not a punch. It was never a threat. I was actually laughing when I heard the misinterpretation because I couldn't figure out how it was misinterpreted if it was visible on my Facebook. A sonic boom is a loud sound wave, which means I'd make a loud statement which would be heard.
"Second, I think 'those' were so use to bullying people, and when I stood up for my wife, they kinda stammered. They didn't think I'm man enough to stand up to people who were doing wrong. This is my family and I'm going to protect it. If they attack us or any person, they should already understand that they can't do that without people getting hurt and/or defending themselves."
ADVERTISEMENT - CONTINUE READING BELOW
Referring to Chino's retort in Facebook, Rachel quipped, "I dunno if it's really parang na-lost in translation...If you read it over and over and over and over again, he never said punch...Pero their reaction to it, 'Sige, punch me,' dadadadada..."
But he turned serious when he talked about how media had fueled the ire between the two camps.
"Totoo naman talaga, e, It got started by media...Sabi ng father ko na wala naman siyang...he didn't start the whole thing, you know...Ang sabi niya, 'I didn't start it.'"
Referring to Piñol's article, he resumed, "Back in 2008, an article was brought up or was released on what my dad and this person were talking about. Parang, parang...what they were casually talking about came out online, in the media. And that's when the battle started, ganito-ganyan. Parang what was said, it was brought out. We didn't, or from what he claims, he didn't go to them to say this...But then, whatever they were talking about, parang sinulat lahat."
ADVERTISEMENT - CONTINUE READING BELOW
Rachel interjected, "They were having a disagreement as father and son."
Junjun continued, "It's normal lang talaga, you know, with your brothers or your parents...Sometimes, you guys can't get along but it was just...He was talking with friends, siguro nag-iinuman sila, and then..."
He didn't finish his sentence but he meant, a "casual talk went to media."
Recounting the events that transpired after his father-in-law's statements got published more than two years ago, Rachel said, "From there, then it just escalated to he was saying you know, 'Leave us alone...' But they would still kind of push the issue. There were people that would constantly go to him and kind of pushed buttons about his dad.
"And then the other way, they would be asking his dad the statements...Like even the thing about...like, something about 240 dollars [amount allegedly taken by the Dad to feed the boxing staff] , right? That jumped to 1,240, and then now it's 80,000."
ADVERTISEMENT - CONTINUE READING BELOW
Even the SSS issue, where Nonito said he wanted to change his surname because of possible fraud. Rachel was convinced it was the media that took it out of context.
She said, "Like an interviewer will come up like, 'Hoy, they're gonna change his surname because you're [dad] using it, what's your reaction?'"
Rachel, however, underscored that they are not criticizing all sports media. "We personally singled out and named those who we were speaking of. I think, if the writers feel they deserve a pat on the back because they feel that they were instrumental in it, as much as they are willing to accept praise, they must be willing to accept criticism and their faults as well. As much as we as a family all are happy in the reconciliation, all of us are willing to accept our mistakes. Sportswriters are just human and make mistakes. All we are asking is for 'those' to have integrity in their trade and position they hold in the media."
ADVERTISEMENT - CONTINUE READING BELOW
What could have been a within-the-family feud became a for-public-consumption issue. But Nonito just wants everything to be water under the bridge now.
"Ang importante for me and for us, we're okay...we're happy actually. We're really, really happy. And actually, we communicate more. We take the time to say hi and call each other," he mused.
LEARNING THE LESSONS. The Fil-Am fighter is glad that the brouhaha ended in reconciliation (CLICK HERE to read story)
Along with it came the lessons, "We learn from it," he said. "Bago pa kami sa mga ganito. We're very new in terms of ...and we're young. So, of course, we're learning to be more patient, to be more understanding in this world. Na not everything, you need to react to..."
For Rachel's part, "I didn't know my Facebook and Twitter get seen so much."
She was guilty of posting "hurtful" posts about her in-laws to defend her husband who chose to keep mum. But she didn't like the way her husband was misconstrued.
ADVERTISEMENT - CONTINUE READING BELOW
"Parang they would add words, and if you go to his Facebook, the word punch was never mentioned. There was never ever a physical threat. He's not like that to ever physically start fight with anyone," she said.
Lastly, Nonito learned when to step back when it comes to real-life battles.
"Kahit na sinisiraan ka, let them. If that's what they think, doesn't have to be eye for an eye every time," he stated.