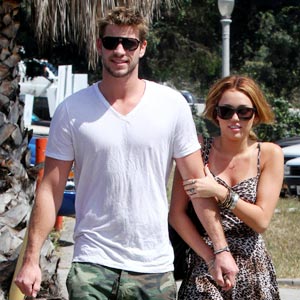 ---
Miley Cyrus and Liam Hemsworth have reportedly rekindled their relationship.
The former Hannah Montana actress and the Australian actor—who ended their 18-month relationship last November—are said to have given their romance another chance after realizing they still care about each other.
A source told E! Online: "They've been hanging out a lot. They've been trying to do it away from the cameras."
Liam, 24, will reportedly accompany Miley to Australia in June for her Gypsy Heart tour.
The news comes after Miley revealed she is "not single."
The singer-and-actress—who was recently romantically linked with British actor Joshua Bowman after meeting him on the set of new movie So Undercover—said during a recent interview on an Australian radio show: "I don't want to cross out the Australian boys but I may or may not be single ... I love Australian boys though, obviously.
"Liam and I are very close, I'm not going to comment too much, but you guys don't have to worry about that... I'm definitely not coming to Australia single."
The Last Song actress was said to be "inseparable" from Joshua at the wrap party for So Undercover earlier this year, but were taking things slowly.
A source said: "They were inseparable at the movie's wrap party but Miley's back in Los Angeles at the moment and Joshua's in Louisiana, so they're going to see how it goes."